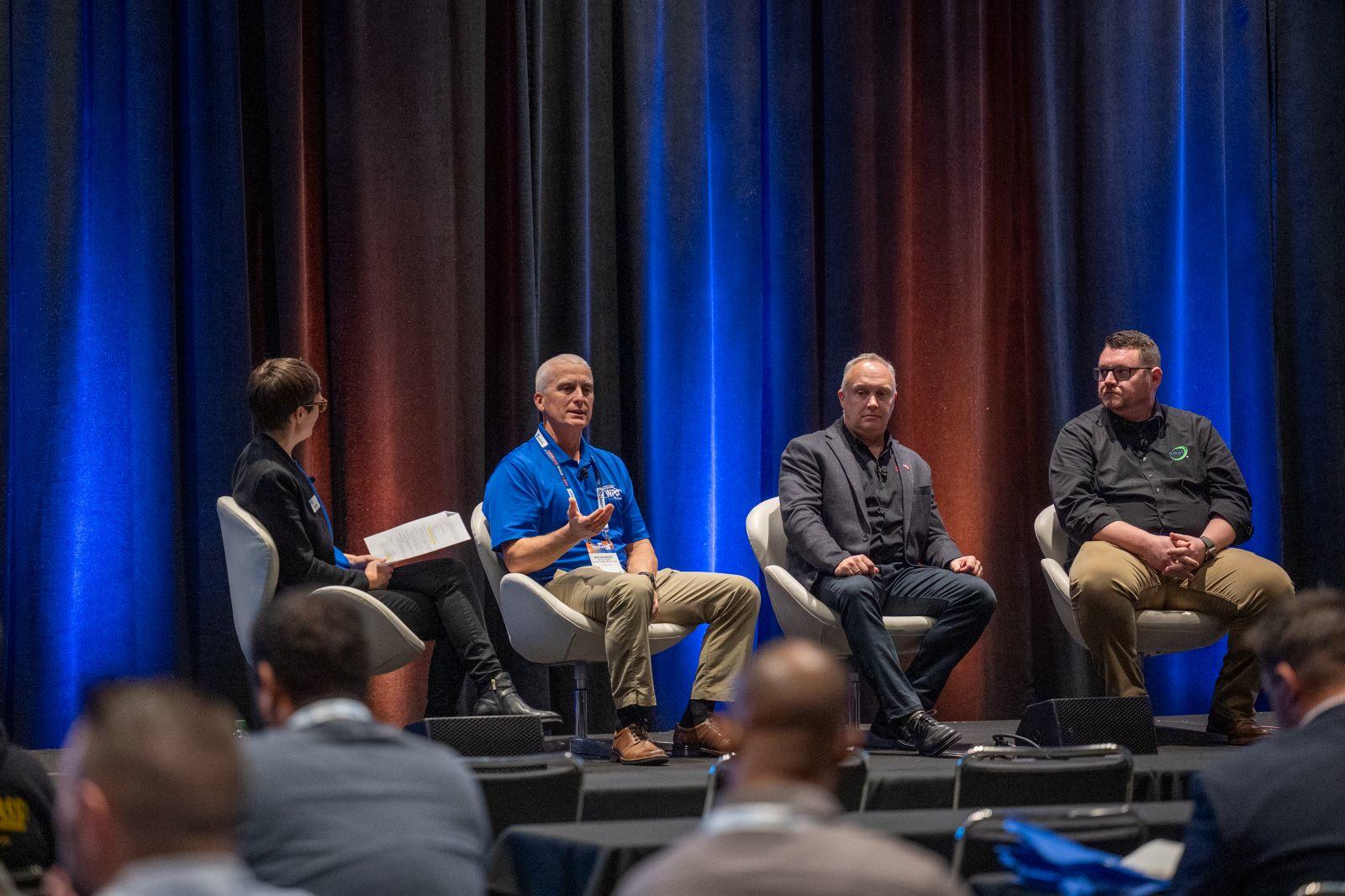 About 200 leaders from glazing contracting firms gathered Oct. 31 at the 17th Annual Glazing Executives Forum for a day of education, networking and solutions sharing. This year's event, which is hosted by the National Glass Association and held in conjunction with GlassBuild America, offered programming to help glaziers tackle some of their biggest ongoing challenges, including finding and keeping employees, managing risks on the job, and handling glass safely amid design trends for larger and more complex products.  
Additionally, for the first time at the Glazing Executives Forum, attendees had an opportunity to head to the GlassBuild America trade show floor for exclusive visits with key exhibitors, where they saw demonstrations of new products and met with representatives from leading companies. 
Recruitment requires retention and attention to employee needs 
Jennifer Lang, president and CEO of Minneapolis Glass Co., and Keith Daubmann, vice president, MyShowerDoor, shared the approach and tactics that have shaped their workforce recruitment strategies. Atop the list: listening to the input of existing employees, as "your current employees are your best tool for recruitment," says Lang.  
Daubmann also recommends using social media to recruit new employees. Daubmann says he looks to social media to highlight the incredible capabilities of glass, and to show off what a job in the glass industry entails. Additionally, he encourages current employees to use social media as a way to highlight their work—something that is also a sales pitch for future employees. "When I'm recruiting, I say that I'm looking for 'content creators.'"   
Minneapolis Glass also employs social media in an effort to promote the company and the industry, says Lang. In particular, the company uses social platforms to post employee testimonials, which allows potential future employees to see what working at the company and in the glass industry looks like. "It helps to set expectations," she says.   
Lang and Daubmann also recommend developing partnerships with local high schools, trade schools and colleges as a way to educate about the potential of careers in glass.   
Managing risks means protecting people 
Vic McConnell, partner, Smith Cashion & Orr, PLC, returned to the Forum to present several risk management case studies. Attendees heard real-world case studies of construction design or jobsite issues that led to serious issues for project companies—and in some cases, led to catastrophic failures that resulted in fatalities.  
McConnell presented case studies about the Hyatt Skywalk Collapse in Kansas City in 1981 and the 35W bridge collapse in Minneapolis in 2007—both of which resulted in loss of life after problems in design or construction were not adequately addressed. McConnell emphasized the importance ethically and legally of immediately bringing up any issues discovered onsite to ensure problems are addressed, and to prevent disaster.  
McConnell's best practice checklist for risk management:  
Establish experienced project team to monitor project activities on a regular basis. 

Seek peer review when needed and document events that could generate claims. 

Disclose risk concerns and ask for direction. 
Document decisions made or direction provided. 

Immediately evaluate and respond to criticism or inaccurate information. 

And document, document, document.  
"Keep records of conversations, document site conditions, take photographs," McConnell says.  
Better handling keeps workers safe, addresses labor concerns 
During the session, "The Evolution of Labor and Use of Handling Equipment," panelists from three handling equipment companies discussed how handling equipment can help glaziers address their ongoing issues with labor. The panel included: Merv Campbell, general manager, Omni Cubed; Flemming Nielsen, U.S. president, SmartLift; and Bryan Wood, president, Wood's Powr-Grip.  
According to the panel, glaziers need more people to tackle bigger and more complex jobs; and they need to ensure they keep their current workers safe, healthy and working; and the industry needs to find ways to demonstrate that careers in glazing aren't hard, manual labor. Handling equipment will be key to all three of those needs, they say.