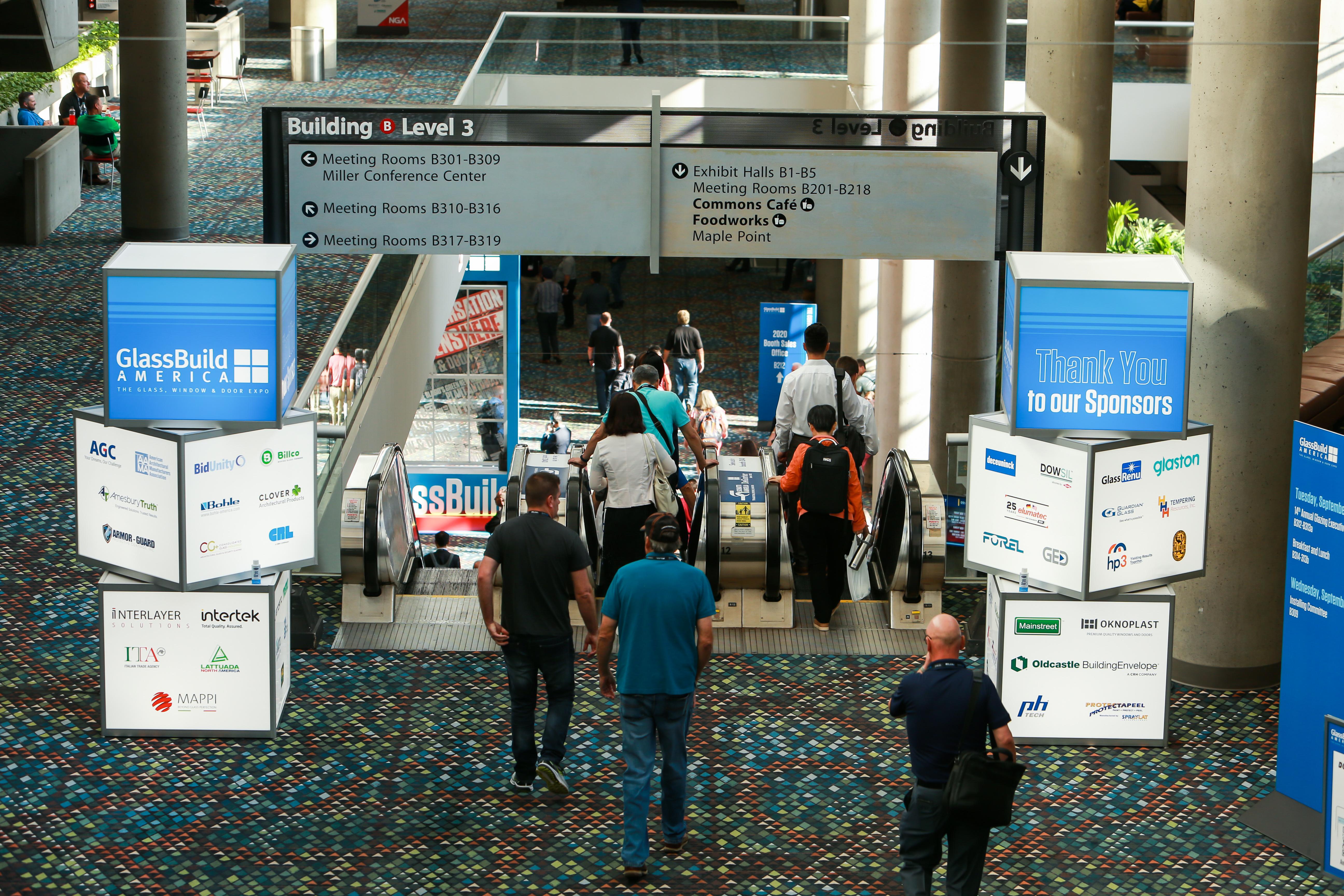 GlassBuild America is the largest event for the glass, window and door industries in North America
There is no better place to reach the largest audience of professionals in the glass and fenestration industries  
Support the industry
Network with prospective customers
Showcase your equipment, products, and services
Increase brand awareness
Hosted by the National Glass Association, the three-day event attracts exhibitors from around the world, showcasing what's next in machinery, equipment, products, technologies, and services. Our goal at GlassBuild America is to help you connect with more customers and increase your sales. 
Exhibiting Return on Investment

GlassBuild America 2021 buyers reported they planned to spend an average of $577,355 on glass, window and door machinery, products and/or services they saw at GlassBuild in Atlanta.

Source: 2021 GlassBuild America attendee survey results.
Who Attends?
2021 GlassBuild America Attendee Demographics

Here's What GlassBuild Exhibitors Can Expect
100 TO 1500 SQUARE FEET  
Member: $38.75
Non-Member: $43.75 
1600 TO 2000 SQUARE FEET [10% VOLUME DISCOUNT] 
Member: $34.90 
Non-Member: $39.40 
2100 TO 2500 SQUARE FEET [15% VOLUME DISCOUNT] 
Member: $32.97
Non-Member: $37.22 
2600 TO 3000 SQUARE FEET [20% VOLUME DISCOUNT] 
Member: $31.05 
Non-Member: $35.05
3100 TO 4900 SQUARE FEET [25% VOLUME DISCOUNT] 
Member: $29.12 
Non-Member: $32.87 
5000 SQUARE FEET AND ABOVE [30% VOLUME DISCOUNT] 
Member: $27.20 
Non-Member: $30.70
PLEASE NOTE
Minimum Exhibit Space Size: 100 Square Feet (9 square meters) 10 feet x 10 feet (3 meters x 3 meters). All prices are per net square foot. 
Members benefit from discounts as partner companies associated with NGA and FGIA. Also, there are discounts based on space size.  
A 10X10 GLASSBUILD BOOTH SPACE*
Inline booths come with pipe and drape (back drape measures 10' wide by 8' high, and the side rails are 10' feet wide by 3' high). It is not a solid wall/surface and cannot support posters. 
A cardstock/heavy paper i.d. sign (44" wide by 7" high) that hangs from the back pipe will be available for inline booths only. Island booth configurations do not include pipe & drape. 
Show Management and the LVCC require that all exhibitors have flooring covering (carpet, wood/laminate panels, etc). 
*Floor space for GlassBuild America is sold in increments of 10'x10' (100 NSF). 
PROMOTION AND SERVICES
Overall promotion to potential attendees via the website, email, and print 
Free promotional tools such as a Customer Invite Code and logos 
Company listings on the website and Show Catalog both alphabetically and by-product 
Appropriate editorial coverage in official publications (print and/or electronic) 
Five (5) Exhibitor Badges per 100 NSF providing access to all activities on the show floor 
General Security at the Show 
ORDERING BOOTH ITEMS 
Exhibiting companies (or their exhibitor appointed contractor) order the following Items directly through the official General Services Contractor (Freeman), appropriate Official Vendors and/or exclusive vendors of the venue, Las Vegas Convention Center (LVCC).
Booth furnishings and décor, carpet, audiovisual, floral, lead retrieval, and so forth.  
Telecommunications, utilities, and catering (LVCC Vendors) 
PLEASE NOTE
Contractors and Vendors require pre-payment of services, preferably by credit card. 
Vendor Order Forms will be accessible via the Exhibitor Portal in Spring 2022. Exhibit contacts will receive an email announcement when they are available.
Expand Your Reach with Sponsorships
Expand brand recognition beyond your booth space. Utilize sponsorships to amplify your presence at GlassBuild America with additional exposure before, during, and even after the show.
Complete your Booth Space Application Today
Need more help or information?