Publicize your participation and maximize your exposure at GlassBuild America through print and digital advertising, and editorial coverage in the official GlassBuild America publications: Window + Door, Glass Magazine and the GlassBuild America 2021 Show Catalog. 
Take advantage of the opportunity to increase your brand exposure and make the most of your show investment! 
Glass Magazine
Glass Magazine delivers complete coverage of the architectural glass and metals industry. As the official magazine of the National Glass Association, the organizer of GlassBuild America, it serves glazing contractors, full-service glass companies, fabricators, manufacturers and architects. Each of the eight issues provides insight into industry trends, new product introductions, and news and market intel. NGA also publishes Glass Magazine Weekly, GlassMagazine.com and GlassMagazineDigital.com, providing even greater reach.
Not getting Glass Magazine in your mailbox? Subscribe Now!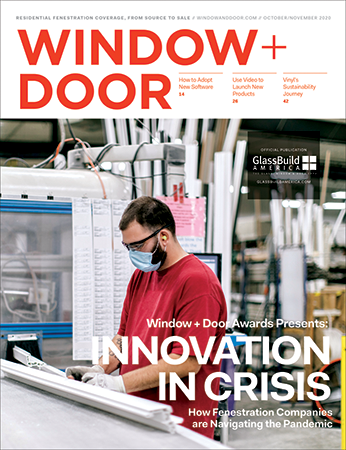 WINDOW + DOOR
Window + Door is the official publication of NGA's premier trade show, GlassBuild America: The Glass, Window & Door Expo. Window + Door provides manufacturers, distributors and dealers of residential windows, doors and skylights focused news coverage; insightful articles on market and design trends; regular columns with insider info on codes, legal issues and marketing ideas; full coverage of new products and trends, as well as operations and technology. Published six times a year, including the annual Fenestration Buying Guide, Window + Door also publishes Window + Door Weekly, WindowandDoor.com and WindowandDoorDigital.com.
Not getting Window + Door in your mailbox? Subscribe Now!