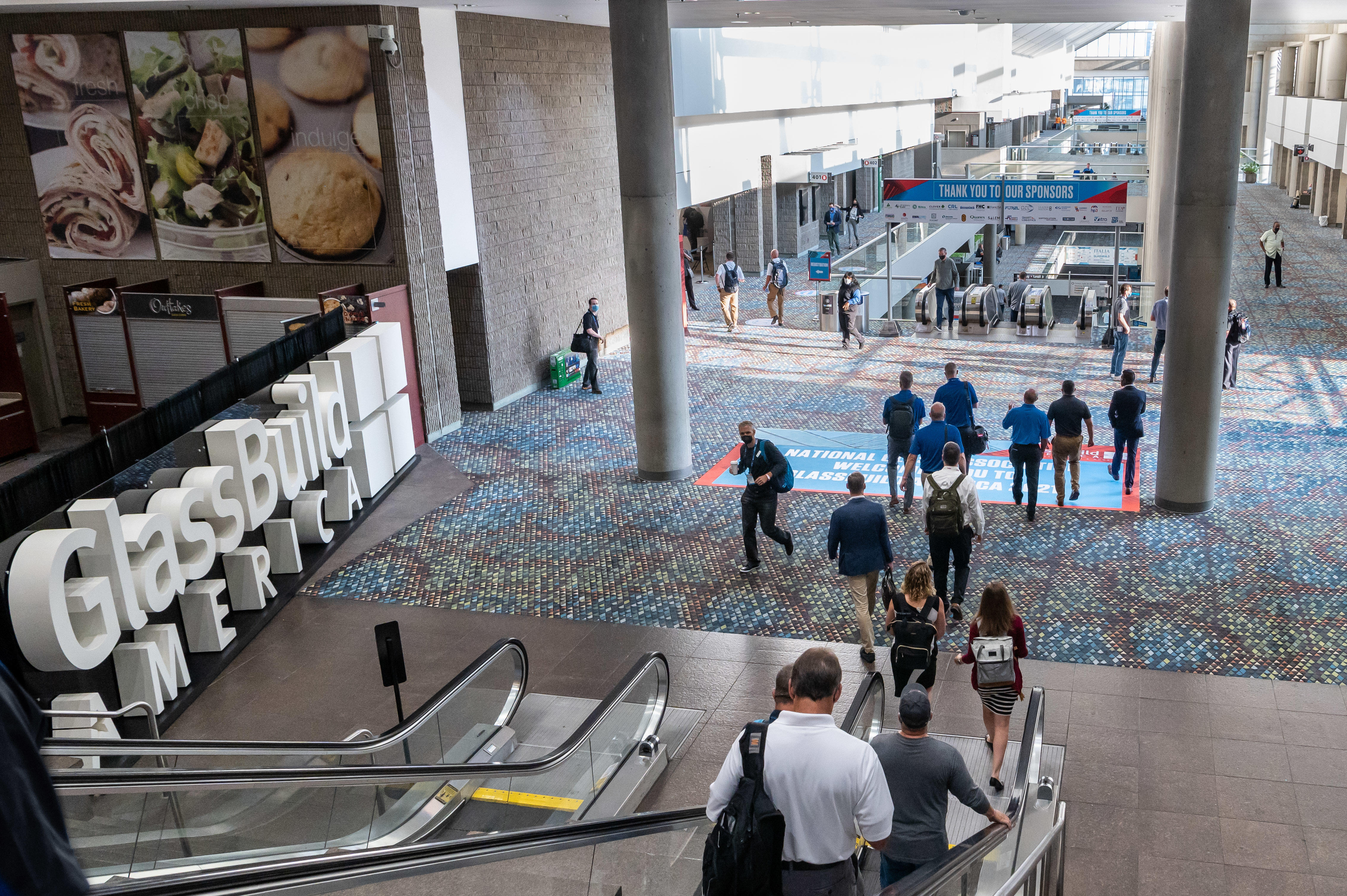 GlassBuild America: The Glass, Window & Door Expo was back in Atlanta, September 13-15, for the first time since 2019. The largest annual industry trade show in the Americas drew 5,100 enthusiastic participants to its 114,874-net-square-foot exhibit floor.
Your glass industry peers had a lot to say about the show. Here's some of the feedback we received.
"The show's been terrific, far better than we expected. Many of our customers came, and we also met many new, high-quality potential buyers interested in our specialty glass products and our 'see what glass can do' custom fabricated."

- Richard Balik, executive vice president, General Glass International, Secaucus, NJ
"Even if it was a smaller scale, all attendees were absolutely focused on improving their business and business relationships. All of them showed up with specific interest and demand...it was very effective and exciting for our team!
- Florian Doebbel, business development manager, Facades, Sika Corporation, Lakewood, NJ
"GlassBuild America is a chance to meet and learn something from other people. The last two days I met many good people with something to say about our industry and the current business environment."

- Tom Whitaker, president, Mr. ShowerDoor, Stratford, CT
"We were so busy the entire show. Thank you for putting on such a fantastic event."
- Sofia Bower, Director of Operations, SPH Global LLC, Houston, TX
"Our participation in 2021 GlassBuild allowed Emmegi to see that the industry is strong and rising to challenges of today's business environment. Emmegi is proud to have been a part of the NGA GlassBuild show for the past years and sees the event as an invaluable tool for education, innovative ideas and face-to-face marketing,"

- Sandro Cestaro, general manager, Emmegi USA, Inc., Rutherford, NJ
"The energy and enthusiasm of the attendees was palpable. People were happy to be meeting in person again and ready to socialize and engage with other humans in their field of choice. It seemed that this energy fed people's drive to be there and execute on business."
-Chris Kammer, marketing coordinator, A+W North America, Rosemont, IL
"If you came to the show as an attendee, you obviously were there to conduct business. Many of the attendees came to our booth with a mission to either place an order for a product they had been researching, or to gather the information they needed to take back to their business to make a purchase decision."

- Mark Imbrock, vice president, EDTM, Inc., Toledo, OH
"Everybody who has come to our booth has had an intention, a reason. It has blown our expectations. The best show in 5 years."
- Syndi Sim, VP, marketing & business development, DFI-Diamon-Fusion International, Irvine, CA
Mark your calendar for GlassBuild America 2022, October 18 - 20 in Las Vegas.