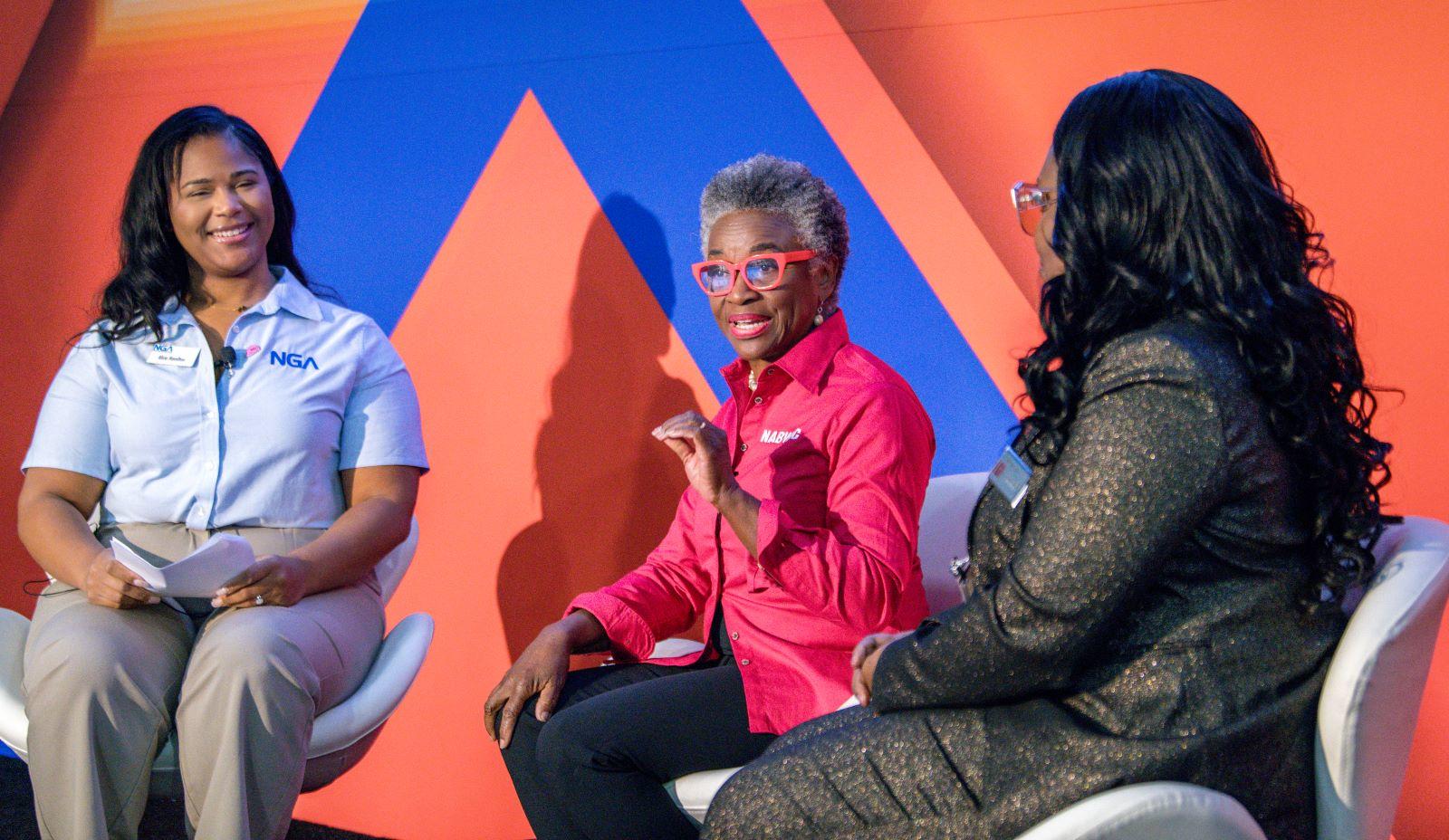 Above (left to right): Alicia Hamilton, Ann McNeil, Kelsi Queen-Robinson, in the keynote panel, Building Business and Community through DEIB
Need-to-Know Code and Regulatory Updates From NGA 
NGA energy codes consultant Tom Culp and NGA Advocacy & Technical Services VP Urmilla Sowell presented updates to standards and codes impacting the glass and glazing industry during Wednesday's panel, Need-to-Know Code and Regulatory Updates. Culp covered the new Energy Star requirements and what types of products meet the new criteria; embodied carbon and how to comply with requests for Environmental Product Declarations (EPDs); building performance standards and stretch codes in Seattle, Massachusetts and New York related to energy efficiency; and glazing for on-site renewable energy production, including building integrated photovoltaics in overhead glazing, opaque spandrel, sunshades and vision glazing.
Sowell shared bird-friendly glazing requirements and NGA's advocacy work in this area; school security and enhanced forced-entry standards such as ASTM F3561; and heat treatment and edge grinding, including NGA's study on test procedures for edge grinding of laminates post-tempering with research on the thermal performance of spandrel glass.
Addressing school security, Sowell asked, "What can we do as an association to address the rising issue of active shooters in the US? We can address hardening schools. In an active shooter situation, time matters. Changing the codes to account for security and not just safety can make a difference."
Top Takeaways from the latest Window and Door Manufacturers' Industry Survey 
Chris Beard from John Burns Research and Consulting gave a Main Stage presentation on the main takeaways of the Window + Door/JBREC industry survey. Statistics ranged from what companies have seen in the last year to what they expect in 2024 and beyond. Seventy-five percent of companies said they will not make changes to their production/installation workforce. Fifty percent of companies were able to reduce their backlogs this year. Many companies also reported inflation in materials and twenty percent inflation of direct labor. Expected areas of focus in 2024 include production automation, footprint expansion and product modifications due to energy efficiency codes. Read more results from the survey.
Building Business and Community through DEIB
The keynote panel "Building Better Business Through DEIB" featured industry leaders Ann McNeil, chair and founder of the National Association of Black Women in Construction; and Kelsi Queen-Robinson, CEO of Ebony Glass & Mirror. Moderated by NGA Operations Manager Alicia Hamilton, the panel focused on cultivating and maintaining a diverse workforce, and the barriers to success people of color face in the construction and building industries.