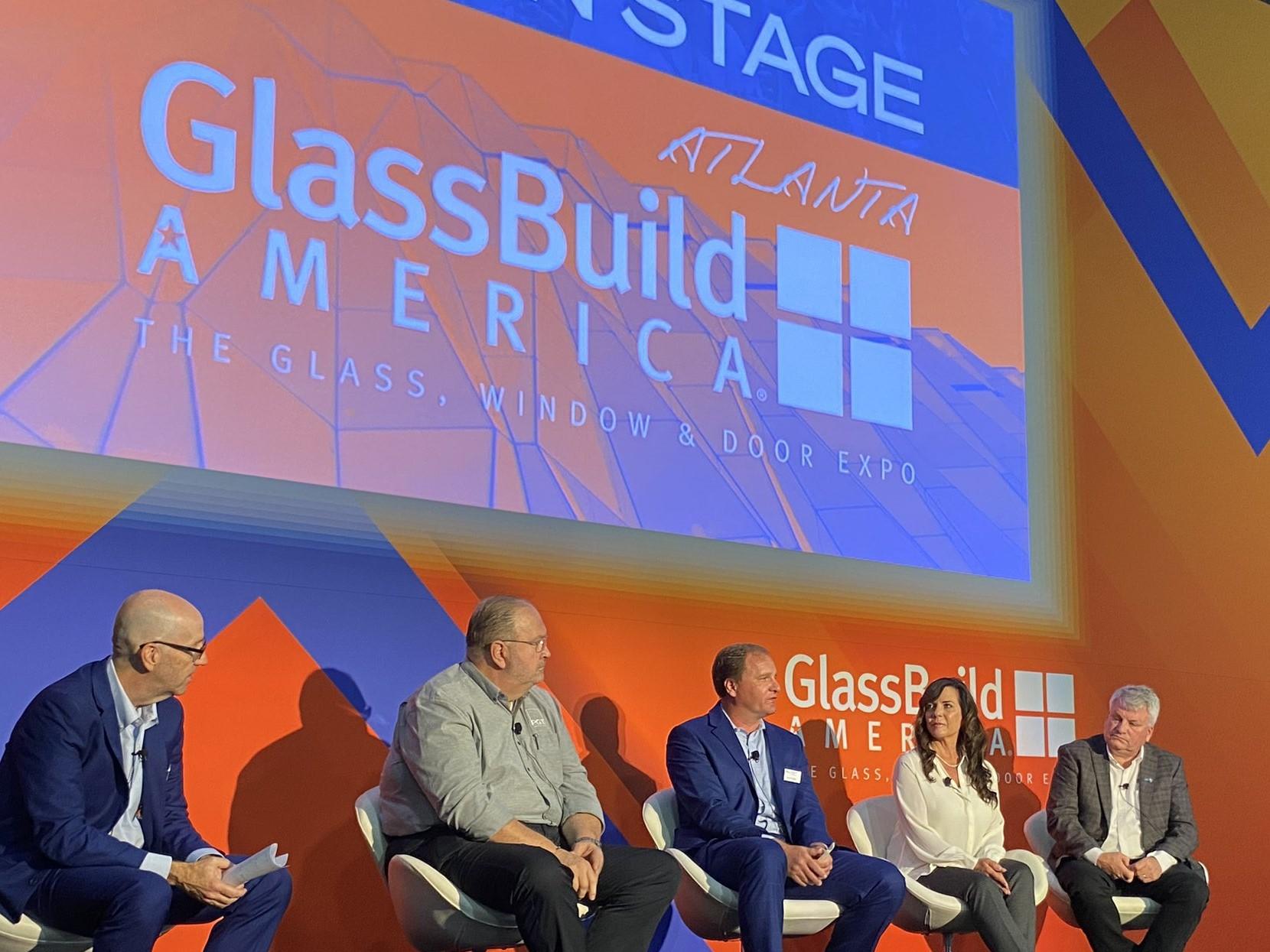 Above: GlassBuild's kickoff panel Industry Trends to Watch with Max Perilstein, Bruce Wesner, Alan Kinder, Shelly Farmer and Ron Crowl
Industry Trends to Watch 
The Main Stage hub for education and industry insights kicked off its three-day schedule with "Industry Trends to Watch," a seminal panel hosted by Max Perilstein and featuring the insights of Ron Crowl, Shelly Farmer, Alan Kinder and Bruce Wesner. AI was a major topic of discussion, and many panelists encouraged industry members to think of the new tech development as an opportunity. "Play with AI," said Crowl, encouraging industry members to see how the tool could work for their companies and processes. Crowl said he foresees adoption of AI for front-office activities first, with major potential for assisting in quality control processes.
Seismic Movement and Inter-story Drift
Amy Becker with the Fenestration and Glazing Industry Alliance (FGIA) updated GlassBuild attendees on the seismic performance requirements for glass and fenestration systems; the important seismic movement considerations for AAMA 501.4, 501.6 and 501.7; and the results of the Natural Hazards Engineering Research Infrastructure Tall Wood Project shake table tests in California that put donated windows from Winco Window Company and Innotech Windows through their paces in a range of seismic intensities over a four-week period.
"As we learn more about the size of [seismic] events and measure their characteristics better, our ability to design and construct better-performing buildings increases," Becker said. "Today, there is a greater willingness to share information, and our documentation efforts have improved considerably."
Mental Health and Suicide Prevention
Presenters Kristen Petillo, Richard Bright, Cal Breyer and Bob Swanson spoke about mental health, suicide prevention and tough conversations in the construction industry Tuesday, Oct. 31, at the Main Stage on the opening day of GlassBuild America.
A culture of "male toughness," job injuries that lead to opioid dependence, binge drinking and substance abuse all contribute to the high suicide rate within the industry. According to panelists, it's vital to eliminate the stigma surrounding mental health and suicide. Talk to your friends and family. Open a conversation if you think something's wrong. A major warning sign is statements of hopelessness.
Resources for anyone experiencing suicidal thoughts, or acquainted with someone who is, include 988 (the national suicide hotline), the Construction Industry Alliance for Suicide Prevention and the American Foundation for Suicide Prevention.