Company Profile
Important appointment in Atlanta for the 2023 edition of GlassBuild America.
​This year we will exhibit @ booth #239 two flat polishers and an open top vertical washing machine. In detail: 
TLR 11 PC H60: fully automatic 11-wheels flat polisher, equipped with
A-WR System: diamond and resin wheels automatic presetting plus polishing wheels automatic wear recovery

i-AL: automatic adjustment of machine's parameters based on the glass thickness

Motorized adjustable infeed conveyor

Digital ammeters + automatic alert system for the polishing wheels wear

Teleservice
AL 8 M H60: 8 wheels flat polisher recommended for large scale production of medium thickness sheets.
Lattuada North America team will be glad to welcome you during this event.
Products & Information
Open top vertical washing and drying machine for glasses with a thickness from 3 up to 15 mm (1/8 – 0.6") and with minimum dimensions of 350xH100 mm (13.8xH3.9").
The machine is equipped in total with four brushes.
The body of the machine and all the parts in contact with the water are made of stainless steel (AISI 304), while an anti-corrosion covering is granted by the use of epoxy and polyurethane paints.
The drying is done by a couple of blowers powered by a high-pressure soundproof ventilator. 
Image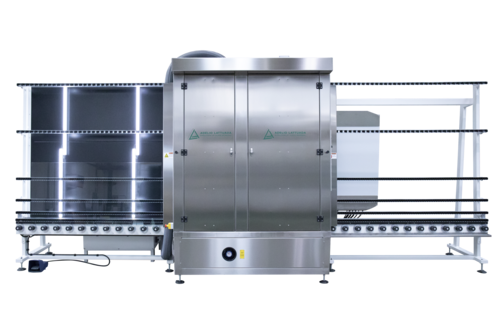 TLR 11 PC H60, a fully automatic 11-wheels flat polisher, is equipped with:
A-WR System: diamond and resin wheels automatic presetting plus polishing wheels automatic wear recovery
i-AL: automatic adjustment of machine's parameters based on the glass thickness
Motorized adjustable infeed conveyor
Digital ammeters + automatic alert system for the polishing wheels wear
Teleservice