Company Profile
Smart Glazier Software makes glass software easy, like no one else can
Manage all aspects of your business with Smart-Toolbox
Smart-Toolbox job management software has been built specifically for glass installation businesses, allowing you to manage all aspects of your business in one system:
Designing
Pricing
Ordering
Scheduling
Installing
Invoicing
Smart-Toolbox understands how you price and quote jobs better than any other software on the market. Integration with accounting and production software streamlines operations and eliminates double entry.
Draw, price and order virtually any piece of glass with Smart-Glass, directly from your browser
Smart-Glass is the brand-new, browser-based, glass design & ordering platform that works on your PC, Mac, tablet and even your mobile phone! It's perfect for both installers and fabricators.
One-click edgework
Job templates and cloning
Support for laminate, insulated and monolithic glass
Interfaces to Optima, A+W, Glasstrax, LiSEC and more
Drag-and-drop cutouts
A custom shape designer
Visit us at booth 1813 and we will gladly walk you through a one-on-one demonstration.
Products & Information
Streamline your Glass Fabrication Process with Smart Glazier Connect
Introducing Smart Glazier Connect, the innovative e-commerce platform designed to seamlessly integrate with your existing glass fabrication software.
This intuitive software provides fabricators with a user-friendly platform that makes it easy for glaziers to send orders to fabricators.
Glass E-commerce: Receive online orders for various glass types, from IGs to custom tempered glass, through our intuitive portal, supported by built-in alerts to intercept potential errors.
Mobile-friendly Drawing: Experience the industry's premier glass drawing software that outpaces the competition. Fully browser-based, compatible with mobile, tablet, and laptop devices.
Fabrication Ready: Receive drawings ready for fabrication, reducing turnaround time. Convert hand-drawn orders and import DXF/DWG profiles for efficient processing.
Integration Capabilities: Purpose-built send books that can be customized to export everything you need to fabricate your glass in one click. Export to popular fabrication software, such as A+W, Optima, Lisec, and Glasstrax. Create DXF/CAD files for CNC and waterjet machines.
Smooth Imports: Import orders from Showers Online® and more. Streamline data entry, improve efficiency, and boost fabrication output.
Smart Glazier Connect will revolutionize your fabrication process. 
Visit Booth 1813 at GlassBuild to see it for yourself!
or book a demo on our website http://www.smartglazier.com
Image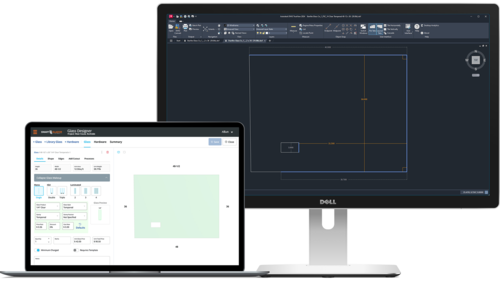 Elevate your Glass Business with Smart-Toolbox
Smart-Toolbox is a glazing job management system designed specifically for the glass industry.  By streamlining the quoting, ordering, scheduling, and invoicing processes for your entire team, Smart-Toolbox removes bottlenecks and boosts efficiency.
With Smart-Toolbox you can:
Quote: Win over clients with quick and accurate interactive online quotes. Your customers can visualize their glass or shower in 3D, accept the quote, and make online payments.
Order: Generate orders for materials and inventory. Vendor management and purchase orders are made simple.
Schedule: Optimize team coordination with intelligent scheduling. Use drag-and-drop to assign tasks and track progress.
Invoice: Accelerate billing cycles and boost cash flow using our instant invoicing capabilities. Integration with popular accounting software ensures seamless financial management.
Report: The comprehensive reports will provide actionable insights into your business performance to help you make informed decisions.
Smart-Toolbox understands how glaziers' price and quote jobs better than any other software on the market and the user-friendly dashboard enables you to identify and address potential mistakes before they become problems.
Choose Smart-Toolbox today for a more efficient and streamlined glass business.
Visit us at Booth 1813 at GlassBuild or book a demo on our website https://smartglazier.com/en/installers/
Image