Company Profile
CRL is the industry's leading, full-service provider of architectural metals, glass fittings, and professional-grade glazing supplies. The company leverages more than 50 years of experience and a track record of industry firsts to offer a one-stop shop with a breadth of innovative product choices. Expert support from specification to installation, and fast, reliable service helps customers complete projects on time and on budget. CRL focuses on expanding opportunities for all to turn bold architectural visions into real world experiences.
Products & Information
The 695 Series Sliding Door is the latest advancement in CRL's expansive line of sliding glass door systems. The 695 Series offers new and improved soft-close technology, which requires less opening force and prevents door collision. Unlike standard sliding systems, the 695 Series utilizes a single soft-close body for opening and closing instead of two. By reducing the soft-close system from two bodies to one, the entire sliding mechanism is scaled down to a more robust 16-15/16-inch length, preventing possible sagging at the center over time. In addition, no piston is needed in the soft-close body to absorb impact. This leads to simplified installation and enhanced durability.
Additional features and benefits include:
Oil and spring soft-close technology
Reduced opening force (50 N)
Single soft-close body with no piston required
Tested to 200,000 cycles
No glass drilling required
3 activators for height regulation
Max glass panel weight: 330 pounds
Finishes: matte black, brushed stainless, satin anodized
For 3/8- to 1/2-inch monolithic tempered glass.
Image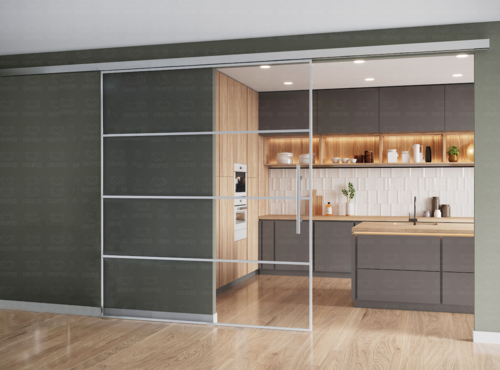 The new CRL DRX Modular Door Rail System deconstructs a standard door rail into independent parts giving glass temperers and glaziers greater control over when, where and how door rails are installed, adjusted and updated. Unlike standard door rails, the DRX system features independent side covers and end caps that can be easily installed or replaced without having to remove the door from the pivot. The system also features 10 ½-inch-length rail bodies that can be moved along the glass to accommodate standard or custom door lengths. Because of this, they can be stocked to virtually eliminate lead times for installing custom glass doors.
With the DRX system, making adjustments to the glass door after it is installed in the pivot is easier than ever before. The improved CRL Kwik-Adjust™️ Pivot Alignment System allows +/- 2 degrees of door angle adjustment to precisely align it to the adjacent sidelite or door. Side-to-side 3/16-inch (5 millimeter) adjustments in either direction can also be made to the door while in the pivot.