Company Profile
AmesburyTruth is a North American supplier of window and door hardware components, leading the market in Casement Window Systems, Hung Window Systems, Sliding Patio Door Hardware, and Door and Window Seals.  We have set the standard for quality and durability for over a century.  Our components have been tested and specifically engineered to enhance the form and function of our customers' doors and windows.  So whether you need window components that add value to your designs or door hardware that looks and performs beautifully, you can trust AmesburyTruth to help you get the job done right.
At the core of our mission is innovation.  We strive to provide not only quality window and door components, but also custom-engineered solutions that meet our customers' specific needs.  Our skilled team of design engineers can help you create a new window or door system suited perfectly to your project.  Our technical services team can quickly guide you to the best hardware solution for your system.  With AmesburyTruth, you always have a competitive edge in our ever-changing industry. 
We want to be YOUR window and door solutions provider!
Come visit us at Booth # 1223!
Products & Information
When you take your top three sliding patio door roller series, and further innovate them to meet the demands of your industry, what do you get?  Keystone – the latest innovation in AmesburyTruth's vinyl patio door segment. 
Keystone offers both single wheel and tandem wheel rollers.  The single wheel rollers, utilizing high quality ball bearings, can accommodate up to 200-pound panel weights.  The tandem roller assembly features composite wheels and can accommodate up to 150-pound panel weights while providing smooth and quiet operation.  And just like the rest of the rollers in our portfolio, they meet AAMA standards too!
Both the single and tandem rollers can be drop-in replacements to existing series. End adjustment rollers offer easy fabrication and are the industry standard for vinyl doors. 
The entire Keystone Series includes 6 rollers and a handle set, all developed to optimize entry level sliding patio door performance and price. 
See Keystone at GlassBuild Booth # 1223.
Image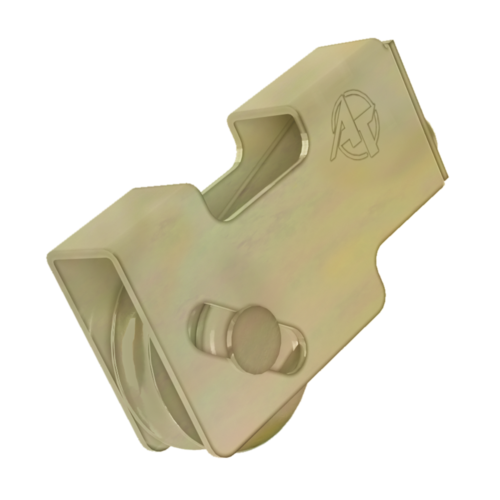 Revolutionary style meets exceptional performance with the Attraction™ handle and cover by AmesburyTruth.
The new contemporary casement cover features a concealed magnet designed to draw the handle into proper placement, providing a sleek, easy to clean surface. The longer slender handle, accompanied by a filled backside, provides an improved appearance when opened, resists folding and reduces operating force providing smoother functionality.
Both the Attraction handle and cover are made of zinc for lasting durability and are available in multiple painted and plated finishes. Engineered to work with the Encore® operating platform, Attraction can be easily used to upgrade existing installations. It pairs perfectly with the Maxim LP and Encore contemporary locks and is North American sourced to keep your operations on track.
See Attraction at GlassBuild Booth # 1223. Learn more Attraction™ Revolutionary Style and Performance | AmesburyTruth.