Image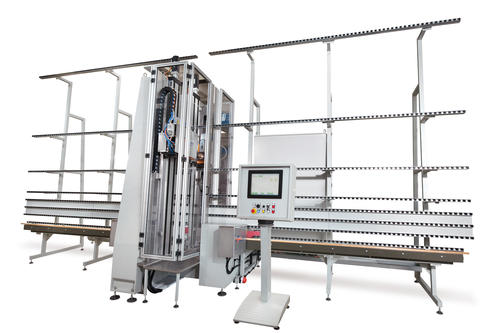 Schiatti model TFV 200 vertical drilling / milling machine can operate independently or in line with other machines.
The machine's drilling capacity is 3 mm to 85 mm diameter, while milling shapes on glass in thickness of 3 mm to 19 mm.
The machine is composed of three independent sections: entry conveyor; enclosed Open Top central chamber for glass processing; exit conveyor.  
It is completely automated by the dedicated program installed in the internal PLC, which manages all the machine functions. A  PC based on Windows XP with a 15" TOUCH SCREEN is the user interface where it is possible to load CAD CAM for dwg, dxf, etc., drawing handling.
The programing coding is done by the machine directly from ISO EDITOR or with graphic interface "DRAG & DROP" allowing you to select from the "Library" the needed processing plus allows you to make modifications.  
The working programs stored in the PC memory can be downloaded by means of the USB key or by the net interface and new programs can be uploaded.
Automatic tool changing and tool dresser are options offered.