Image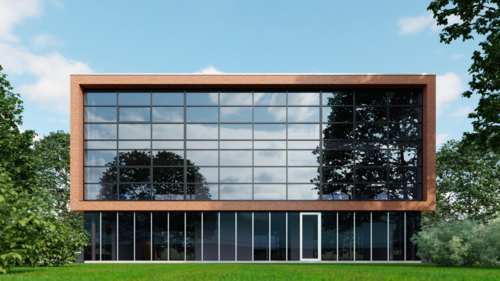 SunGuard SNR 50 coated glass provides a remarkable low solar heat gain, a neutral silver appearance and stunning neutral reflectivity, providing options for architects to achieve a specific aesthetic and make their designs come alive. 
SNR 50 offers a balance of medium reflectivity and neutral aesthetic with a 48 percent visible light transmission and 0.25 solar heat gain coefficient.
"Our projects strive for a sense of belonging and strong contextual relevance," explains Matthew Z. Leach, AIA, Principal/Senior Designer, Page. "Glass should contribute to the vibrance of the project while highlighting the adjacent materials as well as the reflected context. It is important that the color rendition of reflection be as bright but also as neutral as possible. SunGuard® SNR 50 does this without appearing too dark or too reflective. It's a very natural, neutral glass, evocative of more classic modern architectural glazing systems. It is as well suited for reflecting the bright sky as it is for reflecting beautiful landscapes and cityscapes."
By combining the classical, neutral aesthetic both at normal and angular incidence with superior energy performance, this new product presents attractive exteriors architects seek while helping to provide bright, comfortable interiors.