Image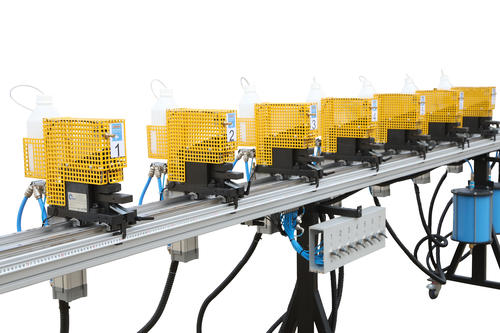 The Simultaneous Punching System is a smart and simple solution that saves precious time and money. Work efficiency increases dramatically by perforating several points at once, with fast and accurate results on every cycle.
With a light structure, each punching unit is compact yet strong for heavy duty continuous work with a press force of up to 1.5 tons. The units slide smoothly with a soft finger touch and can be locked in any position set by a measuring tape. 
The system has a failsafe fully pneumatic interface 'Plug N Punch' with no need for electricity, oil refills or maintenance. One foot lever can activate up to eight pneumatic units at once, in just a fraction of a second.
Die sets are completely changeable, thanks to a revolutionary 'Quick Clamp' system developed by Shoham. A set can be switched in just a few seconds by simply sliding out the old set and clamping on a new one instead. No need for any tools, extra hands or experience, the 'Quick Clamp' system can be easily utilized by anyone.