Image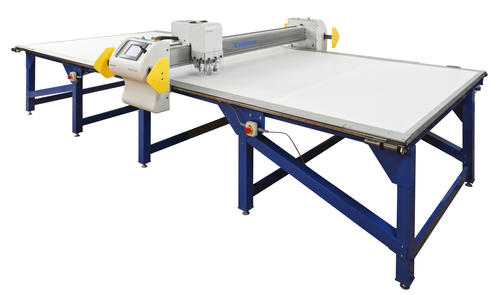 Single- to low-ply precision cutting, marking, and punching of glass interlayer material
Eastman's static table system is capable of cutting, marking, and punching virtually any flexible material at speeds of up to 60 inches per second (152.4 cm/sec.). The static table system is available in a range of system lengths and widths to meet the demands for prototypes, one-offs and full-production runs. The system's high-precision configuration features multi-axis motion for more defined and accurate cuts. Material is spread across the static table by an operator or with the use of a pneumatic gripper bar. The open plenum vacuum system design ensures evenly dispersed airflow for optimal material hold-down. This computer-controlled system features zoning capabilities to enable cutting in one area while the operator is simultaneously picking parts in another, maximizing daily production capacity.
Choice of standard, heavy-duty, or fiber tool head, featuring individually aligned and calibrated tool spindles with your choice of over 60 blades, punches, and notches.
A library feature within the operating control software allows the operator to save commonly used tool pressures and blade assignments based on job and material files.
Prevent unauthorized changes to the system and software with restricted login access.