Image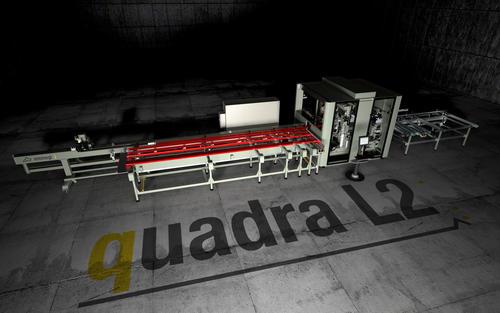 NC 18-axis machining centre, designed to perform milling, drilling, cutting and end-milling operations on aluminum and light alloys in general. QUADRA L2 is made up of an automatic profile magazine and a thrust feed system for profiles sized up to 7500 mm complete with profile clamping gripper drive. Due to the movement of the gripper, the feeder returns to its initial position thus allowing the loader to prepare the next profile. In the central part are situated the milling module, two cutting modules and the end-milling module.
The NC 4-axis milling module is equipped with 4 up to 6 electrospindles and enables the whole contour of the workpiece to be machined, however it is oriented. The NC 3-axis mail cutting module is made up of a Ø 600 mm blade, with down stroking movement. The secondary module mounts a blade Ø 350 with horizontal movement on three axes NC. The end-milling module operates on two NC axes by means of a milling head. QUADRA L2 also comprises an automatic outfeed unit leading from the cutting unit to the unloading magazine. The unit is made up of a magazine with transverse belts for unloading machined workpieces with a length of up to 4000 mm (7500 mm optional).
The machining unit is fitted with a cabin soundproofing the central operational part, which not only protects the operator but also reduces the acoustic impact on the environment.