Image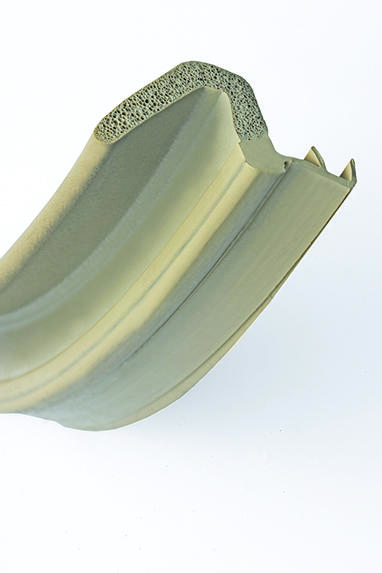 Cooper Standard Industrial and Specialty Group's (ISG) dual- and tri-extrusion materials create a profile with excellent compression set on the sealing side and a rigid base (slide-in or kerf mounted) that is easily inserted into a channel. Multiple-durometer profiles can be manufactured from EPDM, high-temperature silicone and plastic.
Such multiple-durometer profiles are derived from our iDea® Seal Technology. This co-polymer design features a custom or standard EPDM bulb and rigid plastic base. The result is a seal with an excellent compression set that easily slides into a channel and minimizes stretch.
High-performance coatings can also elevate seal performance. Slip coatings further improve part installation (low coefficient of friction), abrasion resistance or enhance aesthetics. In addition, coatings can offer long-term durability due to their excellent heat and freeze release properties, great weatherability and chemical resistance.
The coating process is performed in-line with the polymer extrusion, making it a cost-effective way to add value to our customers products. Cooper Standard ISG has the ability to coat an entire sheet, or a localized area, to meet your specific application performance requirements.
From standard to custom, we have the solution for you. Contact our engineers today to discuss the right design elements for your next project.
800.683.0676