Image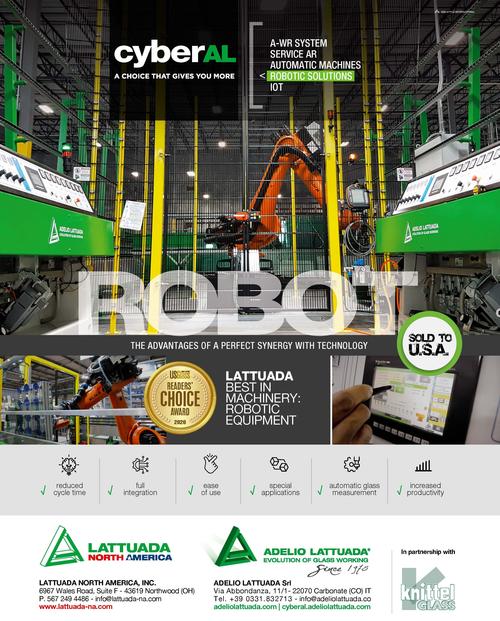 Lattuada Robotic Solution, 2020 and 2018 winner of the USGlass Readers' Choice Award: innovative, flexible and high-performance robotic application for our edgers.
A PERFECT SYNERGY WITH TECHNOLOGY:
01 CUSTOMIZABLE SUCTION CUPS: vacuum with Venturi system
02 HIGH FLEXIBILITY: side by side processing of glasses of different sizes with minimum distance between them
03 AUTOMATIC MEASUREMENT OF GLASS: pre-setting glass size is not required
04 EASE OF USE: straight-line edging machines with standard maintenance
05 AUTOMATIC SPEED ADJUSTMENT: depending on the sizes of the glass
06 LOWER COSTS: just one operator required
07 HIGHER PRODUCTIVITY: thanks to the high speed of this system
08 OPTION OF INTEGRATION with other machines
09 CONTINUITY ASSURED thanks to the low maintenance required by our machines
10 CUSTOMIZATION: many different configurations available (1 robot, 2 robots, 3 robots, robot on 7th axis, etc.)
ROBOT PLUS
CYCLE TIME
The robot can be ready for the next glass in less than 10 seconds.
INTEGRATION
Full integration with the machines of the line (edging and washing machines).
SIMPLICITY
Simple and one-point programming of thickness, speed, robot program (90/180°)
SPECIAL APPLICATIONS
Special applications for very small/large glasses, trapezoids, etc.