Image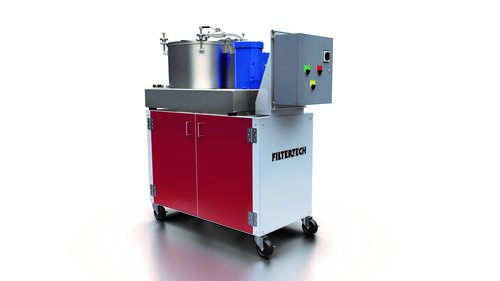 The FILTERTECH model GO-512S-280 is the perfect solution for coolant processing and filtration for the glass industry. Keeps coolants clean to improve efficiency, effectiveness, and extends coolant life to provide a stable process.
EQUIPMENT FEATURES:
All wetted surfaces SS construction
Filters continuously even when not grinding
Capacity up to 10 GPM
Optional chiller
Optional chilled water coil
Can be portable or stationary
Easy Cleaning
Minimal dirty return connection height
TYPICAL APPLICATIONS:
Glass grinding
Glass shaping
Ceramic grinding
Ceramic shaping
CNC machining
MODE OF OPERATION:
Providing easy connection to the process, the GO-5125-280 continuously cleans process coolant removing particulate as small as 0.5 micron in size while a flow of 110% of capacity gives constant filtering even when the coolant flow from the process is stopped. The large capacity basket has a removeable stainless steel liner for ease of cleaning. The continuous circulation and cleaning improves process stability while prolonging the life of the coolant and grinding pads.