Image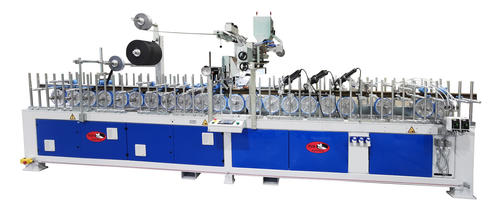 FUX Maschinenbau & Kunststofftechnik GmbH - the leading manufacturer of profile wrapping, lamination and profile bending equipment - is showing  the 2022 edition of the 83-CLM-327 Plus at GlassBuild.
The 83-CLM-327 model is based on the bestselling profile line 83-PLM-327 from FUX, but in a more compact version, as a very attractive opportunity especially for lamination startups and smaller runs. This line is equipped with a 4.4-pound adhesive topmelter that can easily be changed within minutes to an external 5-gallon adhesive premelter.
Standard Features:
One side-based drive train with full accessibility on the operator side
Patented anti-scratch, non-stick and low maintenance slot nozzle from FUX
Precision primer application through centralized controlled primer pumps
Central touch screen panel for the control of the line
Two laminate unwinding reels
Protective film applicator
Upgraded Features:
Integrated automatic on spot humidifier system
Automatic foil positioning system
Laminate preheating system
Remote access maintenance modem
4 primer pumps
With a company history of more than 475 years, FUX engineers reliable state-of-the art machinery and develops process solutions in conjunction with outstanding service and commitment to each customer, and we are local in the US and Canada
Their Know-How enables them to offer many unique custom equipment solutions for fast and efficient manufacturing as well as extraordinarily short set up times.