Image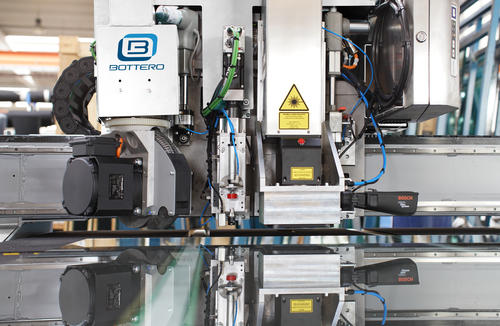 The EVO cutting platform is the top of the range Bottero cutting systems, offering exclusive performance and flexibility. Thanks to the option of equipping the machines with two additional tools besides the cutting tool, the EVO systems can be equipped, in addition to the low-e glass grinding, for example, for laser cutting or labelling of the processed piece. This option makes the EVO systems ideal for forming part of the automated and controlled production flow, which is typical in advanced glass factories and set forth in the "Industry 4.0" regulation.
The EVO range stands out due to its modularity and versatility, thanks to which the float cutting tables can be totally configured according to specific customer requirements: from stand-alone cutting tables intended for small productions, up to intensive high automation level production systems, fully integrated with Low-E grinding devices and marking, and loading and breakout modules.
Each constructive and functional feature of the EVO range is designed to ensure extreme processing precision and maximum productivity, at the service of each specific production requirement.