Image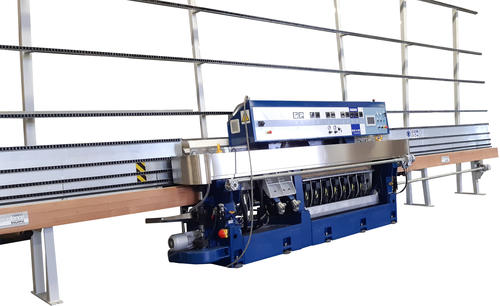 THE NEW ELB 11/45 AUTOMATIC GRINDING MACHINE BY BOVONE: AUTOMATION IS THE KEY TO SUCCESS
The ELB 11/45 AUTOMATIC straight-line edger from Bovone guarantees high and constant quality of the finish of both the flat edge and the miter, high degree of automation, great speed and ease of use.
The Bovone R&D department has engineered an innovative machine that allows the operator greater ease of use, automating the adjustment of the grinding wheels to keep the quality of the finish constant throughout the whole process.
The technological focus of the innovation was to create an active control system for the wear of all the grinding wheels through an actuation on each motor: the automatic system compensates for the reduction in height through a powerful software equipped with an intuitive and easy-to-use HMI. Once the parameters have been set, operator intervention will no longer be required to control the process.
With the automation of each motor spindle, the adjustment is carried out through a remote control by selecting one or more wheels from the display.Machine maintenance also benefits from this innovation: the presetting process of wheels replacement is managed automatically with a simple input. Once the grinding wheel has been replaced (a signal warns the operator when wheel ends), the machine repositions the motor by itself in the correct position.
A further milestone deposited by Bovone on the path of technological excellence in the world of glass processing.