Image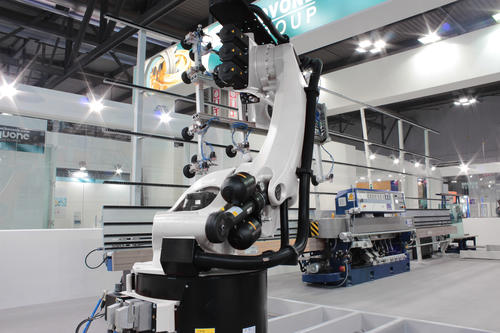 The Bovone Robotic System offers automated integration for grinding, providing the perfect solution to optimize production.
The BRS system integrates straight-line edging machines with articulated, multi-axis robots, ranging in different load and application capacities. 
Bovone has served as an Official System Partner with robotics producer Kuka Robotics for years.  BRS adheres perfectly to Industry 4.0 protocols: the islands work without the presence of personnel and can be fully integrated for traceability and self-regulation of production parameters.
The robotic integration allows a considerable increase in productivity, with a reduction in costs and greater safety for the operator when handling large slabs.
The use of robotic elements produced by companies in the market increases the levels of safety and reliability, and increases after-sales assistance. With a view to safety and productivity, Bovone has created grippers with reduced weight and dimensions that allow to impact less on the load capacity of the robot, thus enhancing the performance in terms of speed (25% less) and energy saving during the processing of particularly heavy slabs.
The robots can be supplied stand-alone, applied to existing edgers or as customized robotic islands based on specific needs.