Innergy® Architectural Products from Deceuninck North America is a line of fiber-reinforced polymer parts custom designed for curtain wall systems, windows, doors, and storefront systems. Innergy AP components deliver unparalleled structural strength with very low conductivity for excellent thermal performance.
Innergy AP components are custom designed to fit into existing commercial fenestration hardware systems and come in a variety of options, including pressure plates, structural thermal struts, reinforcements and other curtain wall components. This eliminates the need for a complete redesign of existing curtain wall or storefront systems while bolstering their thermal performance. Innergy AP components possess the strength of aluminum but are much more thermally efficient. They impart 900 times more energy efficiency than aluminum, possess 100% flexural memory, exhibit zero creep under structural loads, and have a 7,500 Kilopounds per square inch (Kpsi) bending modulus.
Innergy AP pressure plates are fastened to the outside of mullions in a curtain wall system to hold the glass in place.
The rigid thermal reinforcements provide support and a thermal break for window and door systems and serve as an energy-efficient alternative to aluminum inserts.
Curtain wall components are customized solutions designed to meet the design, structural support requirements and energy efficiency of the building they are used for.
eos® windows and doors are designed to meet the criteria for ENERGY STAR 6.0, and they have earned its "Most Efficient Window" designation by outperforming standard ENERGY STAR requirements. The new eos patio door complements Deceuninck's eos window system and is designed for easy manufacturing/fabrication and excellent energy efficiency. In addition, eos doors come with an optional sill that meets the most recent Americans with Disabilities Act (ADA) standards. This flatter, ADA-compliant sill allows for easier ingress and egress.
Accommodates up to 1-¼-inch insulating glass (IG) packages.
Range of solid and laminated colors.
Available as two-panel, sliding patio door or direct set offered in two, three or four lite configurations.
Light Commercial DP 45 (design pressure).
Designed for Residential DP 50 (design pressure).
Air infiltration of .09.
Welded frame with mechanical assembly capability for mechanical sills.
.27 U-factor in double pane configuration without foam.
.20 U-factor in a triple pane configuration without argon gas or foam filled frames (.17 U-factor with argon).
Optional ADA Sill.
Image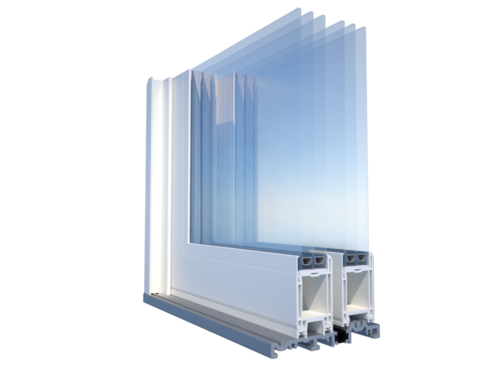 GGI has added multiple New Low Iron Textured Patterns to its decorative glass range: Reeded, Micro Ribbed, Flemish, Stream Ribbed and Stylos S. Each design offers a unique aesthetic and level of privacy with up to 90% visible light transmission (VLT)—ideal for daylighting and the sharing of light between spaces. The ultra-clear, low iron substrate yields a truer color rendering that designers prefer for shower enclosures, door and cabinet inserts, and glass partitions. Textured patterned glass is available in different sizes and thicknesses, ranging from 5/32" up to 3/8". Other options are available with order. To view GGI's complete range of textured patterned glass, visit www.generalglass.com.
Image