Osprey 10 Complete Anisotropy, Overall Bow Recognition + Distortion
NEW to Osprey 10 Complete -Overall Bow Recognition - OBR is a LiteSentry proprietary quality test that recognizes bowed or bi-stable pieces of glass in real-time and displays results alongside other Osprey data before pieces are removed from the furnace unload table.

The Osprey measures all types of anisotropy, optical distortion, flatness, and local and overall bow over the entire area of the glass. 
The Osprey system is installed over the unload conveyor of a flat glass heat-treatment line, measuring and reporting anisotropy, optical distortion, flatness, and thickness of the heat-treated glass. Each glass sheet is measured and data is collected and stored for each glass sheet.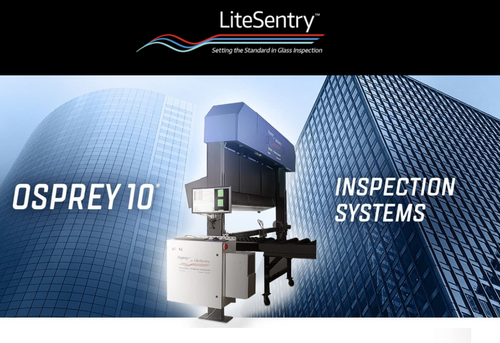 EDTM will highlight our "GLASS-CHEK ELITE" product that measures window thickness and identifies the presence and location of Low E coatings. The instrument identifies laminated glass in a window, and also measures the thickness of the laminate inner-layer. A graphical display illustrates the profile of the window, helping the user to understand the construction of the window. It also indicates the type of Low E coating, telling if the Low E is a hard coat (pyrolytic) or soft coat (sputtered) Low E product. For soft coat, the meter also tells the number of silver layers used to make the coating, allowing you to estimate the type of coating being used. This is EXTREMELY BENEFICIAL for glass companies that use multiple types of low E coatings for their windows. For window replacement companies, this feature helps them select the proper Low E to use in the replacement window. Other special operating modes of the instrument include: Multi-laminate applications such as bullet resistant or fire rated glass, reflective glass, suspended film, quad pane windows, and more!
The Low-E CARD® and Low-E CARD+® offer low-cost options for identifying Low-E coatings on glass, in the convenient size of a credit card!! These ultra-thin and compact models will identify the presence of Low-E coatings on a single piece of glass. The glass can be monolithic or installed in an insulated unit. The AE2200 Low-E CARD® is a disposable model that will allow 1,000 tests to be conducted. It will confirm if there is a Low-E coating present on the piece of glass you place it against. The AE2250 Low-E CARD+® offers a replaceable battery design that can be used indefinitely. This "+" model will differentiate if the Low-E is on Surface 1, Surface 2, or indicate if the glass is uncoated (CLEAR). Like the AE2200, there are no metal contacts and the product can be used to test ALL types of glass. Equip your entire sales team and dealers by adding these to your sales kits. For orders of 100 pieces or more, you can brand the CARD with your company logo and sales message. Now every company can offer their own branded Low-E CARD to their customers or dealer networks.