Infor CPQ has over 20 years of experience in fenestration and is widely regarded by the analyst community as the best solution for manufacturers, with its ability to handle simple and very complex pricing and configuration. Infor CPQ brings our customers' products to life through an interactive, dynamic, real-time, 3D engagement experience for selection visualization. This supports brand engagement during the research process and captures the anonymous users' interest long before engagement with sales, driving inclusion in unknown opportunities.
From within a corporate website, quoting experience, CRM, and / or ERP, Infor CPQ's rich, compelling, visual platform allows any user – an anonymous prospect, customer, salesperson, distributor, dealer – to research, select, specify, quote, and order their simple and complex products faster. This wins more business, differentiates brand, and avoids wasted time, duplicate activities, costly errors, and friction within the processes.
Infor CPQ's unique and deep manufacturing integration is standard with Infor (and non-Infor) ERPs, using the exact same technology to generate accurate bills, routings, shop orders, CAD drawings, and model assemblies. This decreases costs, by leveraging a single technology platform from research to delivery.  Infor CPQ's enterprise solution delivers the lowest total cost of ownership in the fenestration industry. 
Image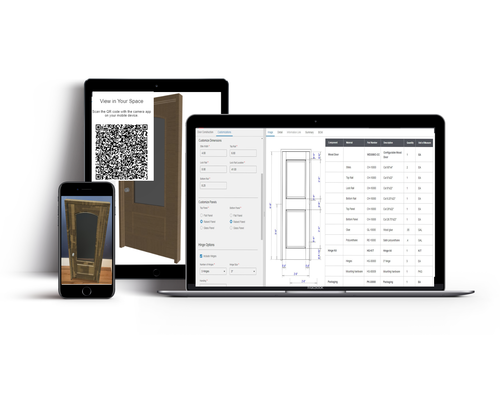 Accurate digital measuring for Flat or Curved glass made easy!
Glass fabricators using the Proliner have improved their overall production process by significantly reducing the time required for measuring and creating digital templates for glass constructions. Due to the Proliner's accuracy, expensive waste products caused by inaccurate measurements now belong to the past.
There is a clear distinction in the requirements for creating digital templates for flat glass constructions and (double) curved glass constructions. We offer special solutions for both. Operators can easily create, check and change digital measurements in the factory or on the job site and use the rapidly created DXF files for further processing or as direct input for machinery.
Anti-glare glass line for see-through façades/windows and/or for Digital Printing and/or laminates with materials such as marble, stone and wood.
LUXPRINT SEE-THROUGH for Façades: 
World's unique anti-glare acid-etched glass you can see through even far away at a  distance, with good image definition and no blur.
This feature is accomplished without coatings, films, nothing added, only glass with a specific surface structure, which means it can be combined with any solar control coatings, such as low-emissivity, bird-safe or decorative patterned glass. Ideal for façades, envelopes, windows, blinds, skylights, demanding anti-glare on side one.
LUXPRINT FOR DIGITAL PRINTING
An "invisible-glass" when applying digital printing, or when laminating with other materials. Enhances colors and images without glare. it adds elegance with a silky non-reflective touch.
The line is composed by 4 finishes:
LuxPrint 4: Antiglare ++++ / Transparency +
LuxPrint 6: Antiglare +++  / Transparency ++
LuxPrint 8: Antiglare ++    / Transparency +++
LuxPrint 10: Antiglare +    / Transparency ++++
More info at: sevasa.com/en/producto/luxprint-antiglare2
Image