The US Centrifuge Model A560 Automatic Centrifuge design handles tough process demands, heavy filtration applications and liquid-solid separations in which the specific gravity of suspended solids are greater than that of the liquid.
The A560 has a highly efficient operation proven to separate micron solids from a liquid medium making it the ideal machine to recover valuable solids, or recycle industrial fluids.
Included with every centrifuge is the 508A approved Standard Allen Bradley Micrologics PLC-based control panel for maximum
processing flexibility. This panel allows our Centrifuge Team™ to immediately access and monitor your A560 through an optional IP network interface.
EXCLUSIVE DESIGN FEATURES:
Patented Load Sensitive Dump™ automation
Patented Centri-Lock™ plow clutch
Rugged hi-torque gear-driven plow system
Robust monocoque frame construction
High efficiency rotating assembly
BENEFITS:
Automatic operation minimizes attention and time
Cleaner working fluids for improved product quality
Extended process liquid, media and tool life
Reduced maintenance and cleanout
Minimizes waste volumes
Relatively dry drip-free sludge
No consumable filter elements
Environmental compliance
Image
The FILTERTECH model GO-512S-280 is the perfect solution for coolant processing and filtration for the glass industry. Keeps coolants clean to improve efficiency, effectiveness, and extends coolant life to provide a stable process.
EQUIPMENT FEATURES:
All wetted surfaces SS construction
Filters continuously even when not grinding
Capacity up to 10 GPM
Optional chiller
Optional chilled water coil
Can be portable or stationary
Easy Cleaning
Minimal dirty return connection height
TYPICAL APPLICATIONS:
Glass grinding
Glass shaping
Ceramic grinding
Ceramic shaping
CNC machining
MODE OF OPERATION:
Providing easy connection to the process, the GO-5125-280 continuously cleans process coolant removing particulate as small as 0.5 micron in size while a flow of 110% of capacity gives constant filtering even when the coolant flow from the process is stopped. The large capacity basket has a removeable stainless steel liner for ease of cleaning. The continuous circulation and cleaning improves process stability while prolonging the life of the coolant and grinding pads. 
Image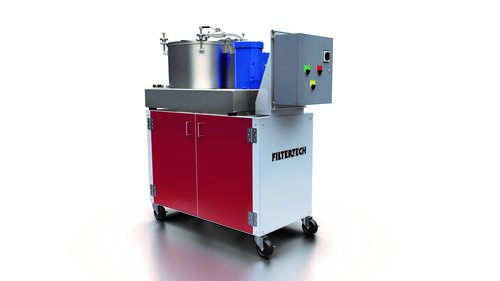 For over 15 years, GlasWeld's distortion-free scratch removal system has saved companies millions by reducing wasted glass and time. Now, they're making the process easier than ever with the new Gforce Max. 
Engineered specifically for scratch removal, the Max features an integrated water feed system, ergonomic rubber grip, and self-leveling backer pad. Even beginner techs can use the Max to remove scratches in minutes without causing distortion.
Save 90% of scratched glass and watch your profit margins skyrocket with GlasWeld's Gforce Max.