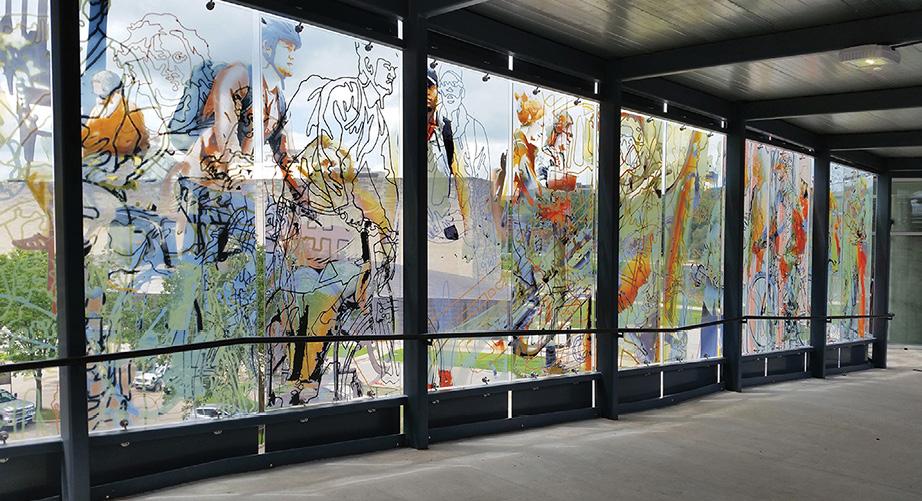 Above: American Shower Door describes the opportunity today to be creative with glass patterns through carved, painted or etched art patterns, for example, the decorative glass installation at the University of Iowa pedestrian bridge.
Trends in glass industry metal systems—from curtain wall systems to railings to interior hardware—continue to move toward maximizing views and sightlines. Customers seek greater access to natural daylighting and a sense of openness in the built environment, made possible with larger expanses of glass and more minimal framing and hardware, according to industry sources. 
Beyond the aesthetics is a push toward systems that allow for quick and efficient installation and, in the face of COVID-19, demand for systems that help to prevent the spread of viruses among building occupants. 
Hear from GlassBuild Connect exhibitors on the four top trends in metals and hardware:
1. Visual considerations
Taller, wider expanses of glass with slimmer profiles are infiltrating the market. Barbara Haaksma, senior vice president of marketing for C.R. Laurence, says slim profiles in door and window frames, particularly those in today's residential indoor-outdoor living spaces, influence commercial, hospitality and office design. "We're building even larger expanses of glass as floor-to-ceiling glass entrances, window and curtain walls gain popularity as a sought-after design element," she says.
American Shower Door currently has high demand for true divided lites, which Carol Perry-Sturgill, president, says are individual pieces of glass inserted in architectural brass or aluminum rails. The company also manufactures the popular barn door styles with flat or tubular bars in any metal, glass or finish for commercial and residential settings. "The concept is to be creative on every unit you make," she says. "Art patterns on glass whether carved, etched or painted are also popular to create a décor of choice in the home or business."
2. Speed of installation
The market is also moving toward systems that reduce labor requirements. "General contractors and glazing contractors continue to strive for faster façade enclosure," says Stewart Jeske, president of JEI Structural Engineering. 
One popular solution is unitized or prefabricated systems. Unitized systems can provide "endless opportunities," says CRL's Haaksma. "The need for prefabricated products is integral to easier installs for glaziers. Unitized systems enable expedited construction timelines, higher quality installations and lower labor costs. … It's a sort of more-for-less scenario with unitized systems: higher quality and less labor."
The industry is also developing solutions for faster installation that extend beyond prefabrication. J-Edge Anchor Systems, for example, announced a product that will enclose façades faster with a new continuous pour stop and anchor system. The J-Edge Anchor System replaces the old wavy bent plate slab edge with a high tolerance, straight edge design, allowing bolted connections in place of field welding. 
3. Health and safety
Glass and metal systems play a key role in health and safety considerations for buildings. "Safety can mean many things to many people," says CRL's Haaksma. "For us, it means designing for the new era we live in, especially in a time of COVID-19, to keep people safe while also helping them enjoy the space they're in. Architects, glaziers and providers are adapting the way we look at architectural systems to keep people safe from natural and human threats."
Assa Abloy currently is working on developing new products and re-imagining existing ones to reduce germ spread through touchpoints on highly trafficked openings, says Catelyn Herman, senior product manager, glass solutions. Completely touchless environments can consider solutions such as wave-to-open sensors, door operators, panic devices and electric strikes for hygienic solutions for hands-free access and egress, she says. 
More budget conscious solutions can include options like Assa Abloy's Rockwood Architectural Hands-Free Door Pull, which Herman describes as being reimagined to add length, creating an arm pull that helps mitigate the spread of germs. But, she says, "There isn't a one-size-fits-all solution to this environment―every building or business has their own unique challenges."
Safety and health protections also extend to metal coatings. Linetec, for example, offers high-performance architectural coatings with Microban technology, "available in nearly any imaginable color with antimicrobial protection that exceeds other conventional finishes on metal building products' surfaces," says Tammy Schroeder, marketing manager. "This can be especially important for high-traffic public buildings including health care facilities, educational campuses, apartment buildings and senior living facilities, where the growth of stain- and odor-causing bacteria is a concern." 
4. Customization
Customers increasingly seek multifunctional solutions that allow for aesthetic and performance flexibility. "With glass, many buyers don't know the extent of decorative options and customizations they can choose from to fit branding standards, their space or specific needs. Designers can use electric swipes for a hands-free solution to access spaces, incorporate custom powder coat colors for a wayfinding approach within a building or incorporate glass railing systems, cubes or frosted glass based [on] what works for their space and its occupants," says Assa Abloy's Herman. "Incorporating glass is no longer an all or nothing solution. It's a sliding scale that comes with complete customization."
Linetec's Schroeder agrees. "Building designers choose to differentiate their projects whenever possible," she says. "Linetec continually strives to create nontraditional, high-performance finishing options for aluminum building products. Minimal cleaning and maintenance with exceptional durability, UV resistance and weatherability have become the expectation."
Deep Dive