Company Profile
Wood''s Powr-Grip Co., Inc.The Original & Trusted Name in Glass Handling Equipment  
Wood''s Powr-Grip makes glass handling more efficient, ergonomic and secure through innovative engineering. Every Powr-Grip vacuum lifter is equipped with many features to enhance worker safety, such as vacuum gauges with colored zones to indicate whether vacuum is sufficient for lifting. Indicator lights and warning buzzers likewise signal when a vacuum lifter is or is not ready to move the glass. And with the addition of our Dual Vacuum System, Powr-Grip has reduced the risk of falling glass, which could otherwise result from breakage or other workplace accidents. From factory floor to final installation, glass handling is easier and less dangerous with hand-held vacuum cups, below-the-hook vacuum lifters and other products by Wood''s Powr-Grip. For more information on Powr-Grip products, contact one of our Technical Sales Reps at 1-800-548-7341 or visit www.wpg.com.
Products & Information
POWR-GRIP® OFFERS
A NEW ANGLE With ANGLE-GRIP
Angled handle provides optimal hand positioning when installing windshields
Lightweight yet durable construction is less likely to damage glass/paint if dropped
Red-line indicator on plunger 
6-inch diameter vacuum pad 
70 pounds lifting capacity
MODEL:  TL6AG
Image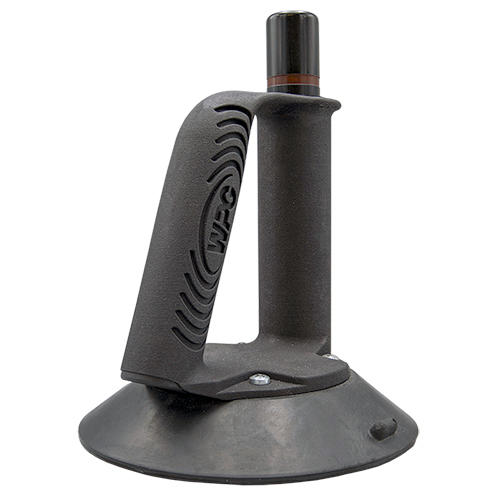 MODEL: PRT489CDC3S
Power Rotator / Tilter 5300 
DC-voltage with Intelli-Grip® technology 
Includes integrated counter-balancer 
More features:
5300 pounds capacity 
35 inches of overhang reach 
360-degree power rotation, 90-degree power tilt 
50-inch minimum radius for curved glass loading 
adjustable pad frame for curved loads. 
This is the largest capacity lifter manufactured by Wood's Powr-Grip to date. 
Image