Company Profile
At UniLink, we create software solutions to automate CNC machines in the aluminum, steel and pvc profile industry.
We provide an independent CAM solution to manage different brands of CNC machines and are able to make a data connection to most ERP, construction or 3D-Solid software.
All machine data is tested in the office to ensure an accurate and continuous operation.  As a result our software will automate production, parts can be produced in less time, material waste avoided and operated with minimal prompts.
We have over 30 years of experience and at least 1,000 companies worldwide running their complete production through UniLink software.
Do you have different brands of CNC machines?  Is your production not efficient and accurate? Do you want data connections from construction software to your current CNC machines?
Stop by and see how UniLink can help you to optimize your production on your CNC machines.
Products & Information
The Product Builder is a powerful design solution for the production of parametric constructions with extruded profiles like fire doors, sun protection, balustrades, conservatories. It is a solution for manufacturers that do not use calculation or drawing software, allowing constructions with profiles to be made as parametric models based on scripts. The models allow the manufacturer to generate machine data, barcode labels, DXF drawings, numerous reports and, if necessary, give feedback to the manufacturers ERP system. From Product Builder the production lists are sent straight to the machine work floor enabling focus on the following tasks.
Using extremely powerful scripting models and algorithms, this software provides endless possibilities when it comes to executing design ideas and turning them into drawings and production lists.
Industries that produce large numbers of similar but customized products can benefit from using our Product Builder, though the ease of implementation and execution is a great tool for manufacturers of any size.
Image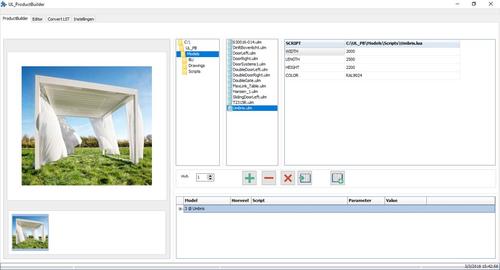 UNILINK is an independent automation platform for production on CNC machines in the industry for aluminum, steel and PVC profiles used for doors and windows or any other profile industry.
Our platform includes a machine independent, vector based, 3D macro programming interface designed to be user-friendly, fast and capable of managing huge macro libraries.
There is a list editor to view and edit your production data. The UNILINK platform can import data from any construction software and export to any brand CNC profile milling and cutting machine. 
The software contains functionalities like tool assignment, anti-collision and bar optimization. The user creates all complex production lists with a maximum of automation, determining from the office if a machine is capable of running a job without collisions and receiving a visual report of the tool assignment before starting the machine. The machine operator only handles the profiles, allowing the machine to work continuously.
Additionally, we offer a powerful optimization module that ensures a minimal use of material. Any excess can be easily integrated in the following optimization. The same goes for damaged profiles; for example, damaged spots on bars can be detected and cut out by the optimizer.
UNILINK provides partners a comprehensive toolbox for managing tasks within their machinery, even multiple brands of machines, different construction software or different companies. We will create the right solution and grow together as loyal partners in the art of automation.
Image