Company Profile
Soft Tech (a Compusoft company) provides premium software for the window and door industry, exclusively built to design, estimate and manufacture windows and doors. Founded in 1988, Soft Tech now has offices in North America, Australia, New Zealand, United Kingdom, France, Turkey, and India. With more than 30 years' experience and thousands of users in the global window and door industry, Soft Tech have developed a reputation for excellence on delivering some of the largest, complex software solutions for some of the world's best industry leaders.
Products & Information
A pre-defined ERP solution for businesses - the ideal start-up option to power integration between Soft Tech V6 and Microsoft's Business Central.
Soft Tech's ERP Extensions Module offers a pre-defined ERP solution for businesses who want to make a start on improving efficiencies within their estimation.
The initial integration work has been done for you
Instead of starting from scratch, Soft Tech can provide a base data transfer to Microsoft's Business Central ERP platform. Once this base data is available in Business Central, you can choose to customize your specific requirements beyond the basic data, either internally yourself, or with the assistance of our specialist teams at Soft Tech.
Image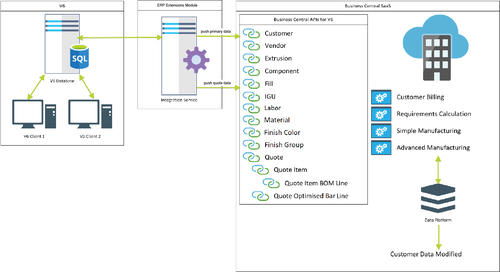 For Manufacturers who have a Dealer Network that want and need to quote their own projects and sell complete whole units quickly and efficiently.
Dealer Management Dashboard
For Manufacturers, keep on top of your dealer network requirements with the Dealer Module Dashboard. Gain unique intelligence to help manage incoming workload effectively while tracking estimates, orders, sales and geographic metrics.
Drawing Board Based Configurator for Dealers
Dealers can easily create frames requiring complex customization and dimensioning, e.g. low-rise storefront, with real-time 3D rendering for quotes. Send quotes directly to your customer. Once the quote has been accepted, place the order directly with the manufacturer, reducing quoting/ordering time for dealers.
Image