Company Profile
SEVASA specializes in the production of technical acid-etched glass, for a sustainable use in architecture, interior design, framing and electronics, with environmental ISO 14001 certification.  A worldwide reputation on highly performing glass for almost 40 years.
Market's widest satin range available worldwide, now presenting the new GRADUEL opacity glass in Horizontal Format, a more profitable and cost-effective format with all the beauty and quality from the known Graduel glass. / Do not miss the unique LUXPRINT Anti-Glare See-through to the distance glass for façades and windows, or also ideal for Digital Printing. / See the engraved lines, textures and dynamic effect from the LINEAS COLLECTION line patterns.  / The new BirdKare, bird-safe outdoor glass along with other options for interiors. / LuxRaff Antiscratch surfaces glass line, up to oversized XL size is a very unique product line. / Stay updated with Sevasa's world's reputed non-slip CriSamar® STEP floor glass. / Also presenting new products for glass markerboards (proyection included), framing and other anti-glare solutions.
Products & Information
Anti-glare glass line for see-through façades/windows and/or for Digital Printing and/or laminates with materials such as marble, stone and wood.
LUXPRINT SEE-THROUGH for Façades: 
World's unique anti-glare acid-etched glass you can see through even far away at a  distance, with good image definition and no blur.
This feature is accomplished without coatings, films, nothing added, only glass with a specific surface structure, which means it can be combined with any solar control coatings, such as low-emissivity, bird-safe or decorative patterned glass. Ideal for façades, envelopes, windows, blinds, skylights, demanding anti-glare on side one.
LUXPRINT FOR DIGITAL PRINTING
An "invisible-glass" when applying digital printing, or when laminating with other materials. Enhances colors and images without glare. it adds elegance with a silky non-reflective touch.
The line is composed by 4 finishes:
LuxPrint 4: Antiglare ++++ / Transparency +
LuxPrint 6: Antiglare +++  / Transparency ++
LuxPrint 8: Antiglare ++    / Transparency +++
LuxPrint 10: Antiglare +    / Transparency ++++
More info at: sevasa.com/en/producto/luxprint-antiglare2
Image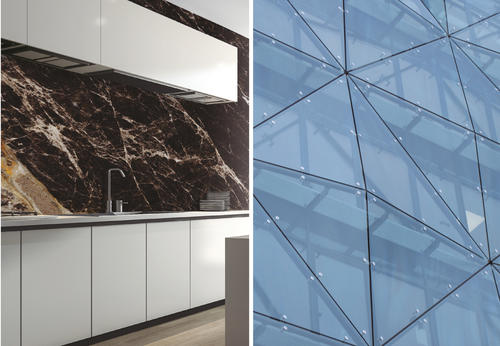 Introducing the launch of GRADUEL-H, the glass with acid-etched gradual opacity, now in a horizontal format: a more profitable and economical format, with the same quality and beauty as the known Graduel.
For the first time, the gradient from translucent to transparent runs parallel to the short side of the sheet (88 inches or 94 1/2 inches), and so, better processing with less waste and therefore better profitability.
It's been a sought-after demand from our customers for a long time, and now it has been achieved by SEVASA's R&D.
The new Graduel-H offers:
Short transition, maintaining the unique Graduel glass quality
Does not show fingerprints, requires less maintenance than other glasses
High resistance to scratches and stains in the treated translucent area
High durability. Ideal for public spaces and high traffic areas.
IDEAL to use both indoors (shower and bathroom screens, office enclosures, partitions, dividers, doors) and outdoors (balconies, façades, canopies).
More info: www.sevasa.com/en/producto/graduel
Image