Company Profile
SECURITY DOOR CONTROLS manufactures electrified access control hardware and controllers worldwide. Since 1972 SDC products have been designed, engineered and built in America while most of our larger competitors manufacture overseas.
SDC is the bridge from mechanical access control to electrified security systems. SDC offers premium, code-compliant products to allow users a seamless transition into electronic access control. With a robust toolbox of over 35,000 access and egress control components, SDC products form turnkey solutions to address almost any door opening imagined.
Pioneering the first motorized electric latch retraction retrofit kits over a decade ago, SDC continues to provide the highest performing ELR products on the market. VISIT BOOTH#8045 to see SDC's new American Made electrified exit devices with ELR factory installed - the S4000 series for industrial applications and the S5000 series for storefront applications. Both devices are conveniently compatible with low energy operators including SDC's AUTO series.
DON'T FORGET - SDC's AUTO series eliminate the need for a separate power supply with its own built-in 1 Amp+ power supply!
Products & Information
SDC's HiShear® electromagnetic shear locks are designed, engineered and built in America for openings that require an architecturally superior appearance. Recognized as a cut above alternatives on the market, SDC shear locks provide high security with a failsafe locking mechanism for a variety of door opening applications. The patented HiShear® design incorporates a floating armature assembly and special alloy steel locking tabs on both the lock and armature assemblies, with both vertical and lateral adjustments to compensate for wide door gaps and warped or misaligned doors. Advanced electronic circuitry incorporates a door alignment relock sensor and an automatic sensing dual voltage input. Noise dampeners greatly reduce the noise associated with locking and unlocking when compared to other shear locks on the market.
HiShear® magnetic shear locks are ideal for use on commercial grade hollow metal and wood doors, metal frames and Herculite doors with top rails.
1561TJ models are surface mounted to the pull side of an inswing door. For metal door and frame, glass door with top rail and metal frame, or wood door and frame. This mounting configuration eliminates the need for cumbersome and unsightly top jamb Z brackets normally associated with pull side mounting of magnetic locks.
Image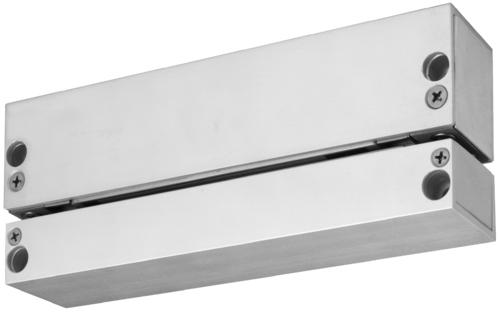 SDC's Auto EntryControl™ Door Operator provides hands-free, door control to help meet US and Canadian ADA requirements for door installations in retail storefronts, office buildings, campuses and healthcare facilities. A built-in 1-Amp+, 24VDC internal power supply provides integration with other electrified hardware without adding a power supply. A fixed mounting bolt and pre-drilled mounting holes allow for single technician installs.
SDC's operator is built with a state-of-the-art microprocessor based unit that is self-tuning and self-learning while offering nonhanded operation, full-mechanical stops and a variety of interface options for sensors, push-plates, fire alarms and electrified locks.
SDC's operator is belt driven with a combination of gears and pulleys, which requires less torque, less power, absorbs more abuse, and is quieter than other automatic door openers while complying with all US and Canadian ADA requirements. Onboard diagnostics simplifies troubleshooting for ease of installation and all SDC operators can be easily configured for surface mounted push/pull applications. ANSI certified not required for initial installation.