Company Profile
SATINAL SpA is an Italian company that features a multi-brand architecture, which encompasses a range of products and machinery for the glass industry worldwide:
TK – Engineering and manufacturing machinery for glass processing (lamination, temper, chemical temper, heat soak test)
STRATO® – Manufacturing EVA interlayers for glass lamination/encapsulation 
We are a dynamic company, determined to deliver innovative solutions for the glass industry. We support our customers at 360° and welcome reliable partners along the way.
We built an in-house R&D Laboratory, S-LAB, where new products are developed and tested. Our technical staff focuses on providing full technical assistance and consulting service all over the world
Beside our headquarter and manufacturing plant located in Italy, we operate sales offices and warehouses in North and South America, to ensure close and quick support to our customers while providing efficient logistic, capillary distribution and fast delivery.
Products & Information
The HST process is the way to prevent and reduce the spontaneous breakage of tempered glasses panels caused by the inclusions of nickel sulphide. There is a growing tendency to require that the glass used for large projects is HST tested.
TK HST oven reaches the Jumbo size of 130 inches by 236 inches with a glass weight capacity of 5 tons.
Moreover, to meet customers requirement, TK has developed a combi-oven that can run both laminating and HST processes.
THIS SYSTEM ALLOWS YOU TO INVEST IN A SINGLE MACHINE FOR 2 DIFFERENT PROCESSES, TO SAVE SPACE AND MONEY.
TK offers a LAMIJET CONVECTION + HST oven: a multi-level laminating oven with trays for glass lamination and a modular system with a quick loading system for the HST process, compliant with EN 14179-01 European standard.
Key features:
Laminating process EVA - PVB - SGP   up to 6 trays with a maximum size of 96"x142", HST process with a maximum size of 78 inches by 142 inches and a maximum of 2 tons
Software completely managed by Siemens PLC  and TKonnect 4.0
Electric board in compliance with UL/ CSA standard
Image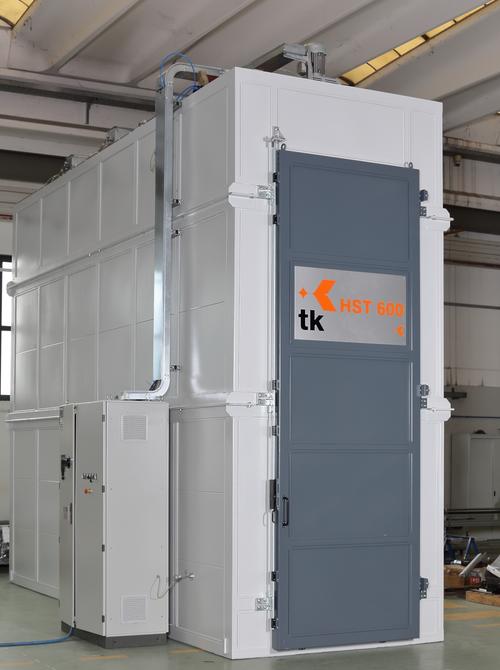 Satinal is proud to announce the launch of STRATO® RIGIDO, its first structural laminating interlayer.
STRATO® RIGIDO is compliant with EN 16613 certification so, thanks to its certified structural characteristics, it is suitable to withstand large loadings without losing its rigidity.
STRATO® RIGIDO provides maximum protection against strong impacts: the breakage of the glass component does not affect the whole laminated structure.
This interlayer, compatible with STRATO® CLEAR and COLOUR System, not only grants structural and rigidity characteristics to the glass, but also provides other properties, such as colour, transparency, UV protection, sound insulation, solar control and bird safety.
Other characteristics of STRATO® RIGIDO are: 
·        Structural post-breakage resistance across a wide range of low and high temperatures
·        Excellent open-edge stability, not subject to moisture infiltrations
·        Compatibility with STRATO® CLEAR and STRATO® COLOUR system
·        Possibility to use thinner glasses, reducing costs and carbon footprint
·        Developed for hurricane glazing, ballistic resistance, facades, balustrades, stairs and partitions
To request more information visit
Image