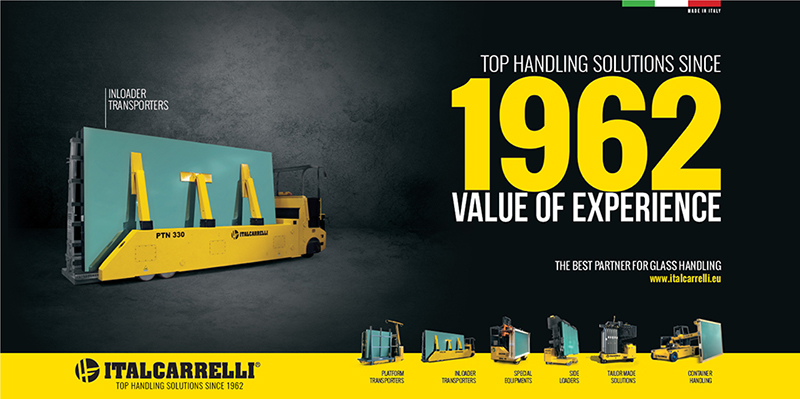 ITALCARRELLI® is a world leader in the design and manufacturing of special machines and equipment for the storage and handling of goods. With many years of experience, the company has acquired a remarkable knowledge and, thanks to investments in search of innovative solutions, it provides its products to the most important manufacturers all over the world. Italcarrelli has specialized in the flat glass sector, offering a wide range of systems for handling glass of different dimensions in float glass facilities, from the warehouse, to the processing lines or in the shipping areas. The fleet of machines includes Platform transporters, Inloader transporters, Multidirectional side-loaders, Special equipment, Solutions for glass handling inside closed top containers, Automated Guided Vehicles (AGV) for flat glass handling.
In the glass sector, Italcarrelli offers a wide range of transporters to handle glass of different dimensions in float glass facilities: DLF/LES, Jumbo, Jumbo XXL size or glass on racks as well as laminated glass in autoclave or sheets under special conditions. These machines perform the glass handling from the end of the line (stackers) to the warehouse and from the warehouse to the processing lines or to the shipping area.
The fleet of our glass handling machines includes: 
Platform transporters, 
Inloader transporters, 
Multidirectional side-loaders, 
Special equipment,
Solutions for glass handling inside closed top containers 
Automated Guided Vehicles (AGV) for flat glass handling 
Italcarrelli handling solutions can be equipped with wheels suitable for any type of flooring, allowing them to be used both indoors and outdoors and with axis compensation systems for uneven flooring. A wide range of optional features such as lights, ultrasound sensors, load security system and optical or inductive driving sensors are also available. 
All Italcarrelli machines are designed according to the latest standards in terms of environmental protection and we install only the latest generation batteries and engines with certified emission levels including DPF. Our battery-powered machines are equipped with a software developed by our engineering department to get the best performances with the minimum power consumption. Also on diesel / LPG powered machines the engines and the transmissions are controlled through a software developed by us that allows to optimize the performances and to reduce the fuel consumption, leading to less emissions and thus reducing operating costs. Besides transport solutions, we support our clients in all phases with multiple services. Italcarrelli offers a highly qualified consultancy and engineering service. Thanks to our skilled designers, we can provide designs for the handling and storage of products according to our client's needs. 
All designs are carried out with utmost care to all details and factors, with the calculation of cycle schedules, optimizing the personnel inasmuch as possible and assuring customers the minimum expenditure on machines and equipment. Upon delivery of each transporter, our qualified technicians are available directly onsite for the first commissioning of the machines and to train the operators. Moreover, thanks to the coordination of ours customer service, our network of service centers located all over the world and our in-house spare parts stocks allow fast spare parts delivery and support in a very short time. 
Italcarrelli is ISO 9001:2015 certified, guaranteeing its customers the purchase of quality products and services.
COMPANY VIDEO 
Product Categories 
 Machinery & Equipment