Company Profile
Software for Windows and Doors
IC COMPLEX software optimizes the selling process of windows, doors, roller shutters, and other fenestration industry products. IC COMPLEX covers both: B2B (business to business) and B2C (business to customer) model with exceptional eCommerce solution. You can use it online on a desktop as well as on a smartphone or tablet.
IC COMPLEX Product Configurators
Our product configurators are used by professionals and by customers in the B2C eCommerce model. IC COMPLEX the biggest advantage: Internet Configurators are COMPLEX underneath, but SIMPLE in use. In the other words: You don't need to know much about products, to configure them by IC COMPLEX, but if you are a specialist, you will find all you need to customize all details.
Export optimization and automatization
IC COMPLEX offers internationalization and localization out of the box. IC COMPLEX clients (usually Windows and Doors manufacturers) use the "IC Admin" panel to customize their offers, independently for different markets. Dealers can use IC COMPLEX to prepare quotes for customers, and immediately order them from the manufacturer, once the customers accept them.
Products & Information
IC Commerce is an innovative online store dedicated to products such as Windows, Doors, Roller Shutters, Blinds, Garage Doors and other products from the whole fenestration industry.
Selling windows, doors, roller shutters, garage doors, exterior and interior blinds, IC COMPLEX is equipped with all the necessary tools for online sales: IC Commerce. The online store software is fully integrated into the IC COMPLEX system, so products created in the configurators can be accessed directly in the store catalog. The system allows customers to search for such predefined products and then edit them using configurators. Depending on their preferences, consumers can search for products using categories and filters in the store, or immediately go to the selected configurator and use it to configure the product.
Image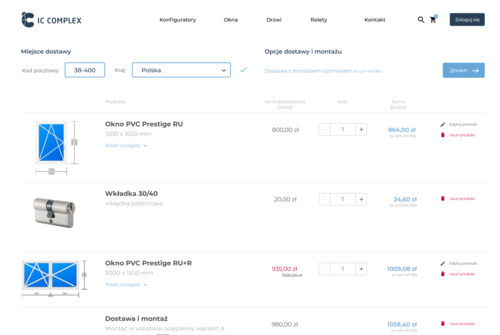 IC COMPLEX is a B2B platform for business partners. It is a tool dedicated to the fenestration industry that optimizes the process of pricing, offering, and ordering windows, doors, roller shutters and all other products of such industry.
IC COMPLEX is used for sales in the B2B channel (manufacturer - dealer and distributor - dealer). It doesn't matter where your contractor is located and what language they speak - the system is equipped with language versions appropriate to your needs. Your recipients will be able to design, evaluate products and then place an order.
Image