Company Profile
Glassopolis is a leading distributor of specialty glass products and one of the world's largest processors of transparent glass ceramics. Glassopolis will present a range of new fire-rated, school security, lead x-ray and other specialty glass products. Glassopolis features SCHOTT PYRAN Platinum - the world's largest fire-rated glass ceramic, Protect3 Safety Glass - the affordable and UL classified choice for Fire Safety and Security, and TEMP20 fire-rated glass for 20 minute fire doors. Glassopolis distributes to glass contractors, fabricators and distributors. If you have a fire-rated glass project - come see us. If you want to become a fabricator or distributor of fire-rated products - come see us. If you spec, buy or install fire-rated doors - come see us. Drop by our booth and start doing business with the real deal. Glassopolis sells fire-rated, X-ray, privacy, bullet and blast resistant, fireplace replacement glass and more. 1-800-262-9600.
Products & Information
PROTECT-Bullet glass from Glassopolis is a custom-engineered multi-laminate bullet protection glazing product. It is specially designed to meet the needs of the market and leads the way in performance, affordability and lead-time. When you want UL 752-tested bullet protection glazing, you need to check out the PROTECT line from Glassopolis. And when you want it fast, you will use Glassopolis as your trusted supplier because nobody does it better. Call Glassopolis at 1-800-262-9600 and see what we can do for you.   
Image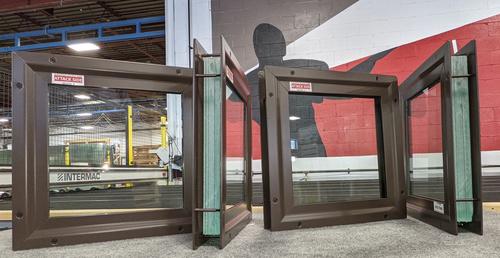 PROTECT-X is the latest addition to the PROTECT lineup of protective glazing from Glassopolis. PROTECT-X is a specialty glass that protects against X-rays and radiation. It's used in medical and security scanning facilities where it outperforms competitive products at the right price. It is available in several different safety formats, including filmed and laminated, and can be tailored to your exact needs. And from Glassopolis, it's in stock and available for quick ship when you really need it fast. Call Glassopolis today for your protective glass needs, whether x-ray, fire, bullet and blast, electromagnetic fields (EMF) or other high-performing glass shielding at 1-800-262-9600.    
Image