Company Profile
Glasslam will be exhibiting at Glassbuild America 2021, September 13-15 in Atlanta, Georgia on Booth 1415 with their revolutionary WorldSpacer, EcoSpacer T, and EcoSpacer, "the spacer that will save you money and the environment". Go vertical and make your own in-house flexible foam spacer JIT from 55 gallon drum materials for additional savings! New sizes now for ClearSpacer, "expanding your view beyond the frame". A crystal clear flexible urethane spacer for refrigeration doors, or two sided architectural butt glazing, and more.
For the impact market we will also exhibit our new US patented Sudden Impact method of making low cost MIAMI-DADE impact IGU with the weight savings of only two lites of glass instead of three. Any IG manufacturer can now make laminated security impact IGU by simply making insulating glass first, and then adding liquid polyurethane resin through a simple hole in certain spacer frame types. The resin then cures in to an extremely tough interlayer, even allowing fully tempered glass to be held together and pass large missile impact and cycling tests. Come see us and the new products that can give you an edge in your business for tomorrow!
Products & Information
ClearSpacer is a revolutionary new transparent spacer offering edge to edge fully transparent views for architectural applications or for refrigeration cabinet and refrigeration door markets. It is a high performance urethane based clear spacer with preapplied acrylic sealant on the sides for instant bonding to glass. It can be used on the verticals where clarity and transparency is desired, in combination with any type of desiccant filled spacer on the horizontal spacer sections covered by framing. ClearSpacer has been tested and shown to pass refrigeration testing at the SSV lab in Italy. It is the first flexible spacer and organic spacer to pass such testing. Full view clarity and durability are now available at the same time!
Image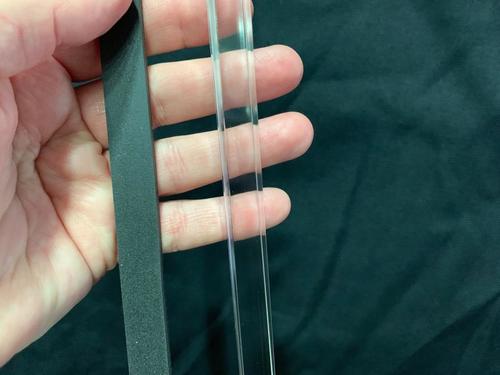 High performance interlayer material POLYLAM resin is coated 0.09" in thickness on surface 3 of a completed IGU via a large gas filling hole, and cured with IR heat within 15 minutes for making instant Impact rated IGU passing and exceeding MIAMI-DADE testing protocols. SUDDEN IMPACT glazing and IGU can uniquely pass large missile and cycling tests with all types of glass including: annealed, heat-strengthened, or even fully tempered glass. Your expensive automated IG line can also work as your LG line on second shift or once the days' IG production is completed.
Image