Company Profile
Frameless Hardware Company LLC is a manufacturer and supplier to the glass, glazing, and fenestration industries. They provide a complete range of tools, supplies and innovative architectural hardware for frameless shower doors, all-glass entrances, aluminum storefronts and entrances,  architectural railings, and transaction windows.
As a privately owned, American based company, our mission is built upon the core principles of customer service, product innovation, and entrepreneurship. Our products, services, and ethics are backed by a team of highly knowledgeable industry veterans that effectively combines technical competency, product expertise, and small business ideologies.
Products & Information
Experience and Innovation – Frameless Hardware Company LLC (FHC) is proud to announce the addition of another innovative product to their portfolio of glass railing and windscreen solutions for commercial and residential applications. The FHC Achieve (Patent Pending) Frameless Glass Railing System offers the same performance characteristics of traditional glass railing systems, but with significantly expedited installation times. FHC's proprietary dual angle mechanical shim set geometry and economical installation/removal kit eliminate the hassle of traditional expansion cements and allow for adjustment/removal.
FHC's Achieve mechanical shim set is a dry attachment system that is removed as easily as it's installed. Designed and optimized to reduce stress on monolithic and laminated tempered glass, this is the next generation of glass railing systems.  
40% Lighter Than Traditional Base Shoes
Innovative "One Seal" 1SGA Gasket Makes Installations Easy. Installers Pre-Load Gasket Before Setting Glass and Use the Same Gasket on the Inside to Finish Installation
Innovative Dual Angle Shim Sets  
10' and 20' Stock Available Drilled or Undrilled
Designed for Heavy Glass Railing and Windscreen Applications
Custom Fabrication Available
Models for 1/2" – 9/16", 11/16", and 13/16" Tempered and Laminated Glass
Wide Range of Architectural Finishes
Image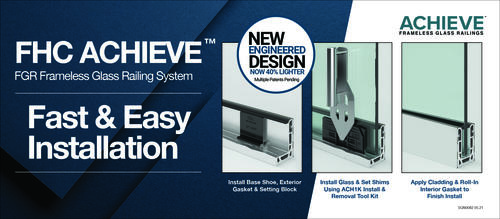 We are proud to introduce our FHC Advance Series HERC-DOOR™ Frameless Door Rail System. Designed, engineered and manufactured in the U.S.A., our HERC-DOOR™ rail and patch fittings presents glaziers and fabricators with an innovative solution that provides faster, easier installation with accelerated lead times. You now have a choice.
FHC's design and engineering team has delivered an all-glass entrance system solution that significantly improves on what is perhaps the most-specified rail system on the market. A thoughtful, and a crowd-pleaser for sure:
-       Innovative UNITIZING GASKET / Dual Inclined Control System (Patents Pending)
-       Easiest and Fastest Rail to Install in the Industry
-       New Modern Crisp Corner Design
-       Class 1 Anodizing UV Stable Finishes That Will Not Fade
-       Increased Glass Bite Improves Holding Strength and Aesthetics
-       Solid One Piece Aluminum Housing
-       State-of-the-Art Solid Forged Brass Plated End Caps With Premium Finishes
-       New Innovative Anti-Clamshell Pad End Cap
-       Available With or Without Lock
-       Available In a Wide Range of Architectural Finishes