Company Profile

Emmegi is a reference point in the sector of machining systems for aluminium profiles, light alloy, PVC and iron and is now a recognised partner in the consulting process. There are no secrets behind the company''s success. There is just work, passion, dedication, skill, professionalism, research, investments and the capability for analysis combined with an innovative spirit. Emmegi is a customer-oriented company: we all work with constant dedication to anticipate our customers'' requirements, create hi-tech, high-performance, and reliable solutions, and recommend the best manufacturing options. Moreover, our timely and skilled After-Sales Service will always guarantee the availability of products and services
Functional and stylistic uniformity of the entire range; fully interconnected production system, ease of use, reduced set-up times, high productivity, quality, precision, and reliability. Not to mention the advantages of having one reference contact every time you need assistance!

We are always there for you!
Products & Information
NC 18-axis machining centre, designed to perform milling, drilling, cutting and end-milling operations on aluminum and light alloys in general. QUADRA L2 is made up of an automatic profile magazine and a thrust feed system for profiles sized up to 7500 mm complete with profile clamping gripper drive. Due to the movement of the gripper, the feeder returns to its initial position thus allowing the loader to prepare the next profile. In the central part are situated the milling module, two cutting modules and the end-milling module.
The NC 4-axis milling module is equipped with 4 up to 6 electrospindles and enables the whole contour of the workpiece to be machined, however it is oriented. The NC 3-axis mail cutting module is made up of a Ø 600 mm blade, with down stroking movement. The secondary module mounts a blade Ø 350 with horizontal movement on three axes NC. The end-milling module operates on two NC axes by means of a milling head. QUADRA L2 also comprises an automatic outfeed unit leading from the cutting unit to the unloading magazine. The unit is made up of a magazine with transverse belts for unloading machined workpieces with a length of up to 4000 mm (7500 mm optional).
The machining unit is fitted with a cabin soundproofing the central operational part, which not only protects the operator but also reduces the acoustic impact on the environment.
Image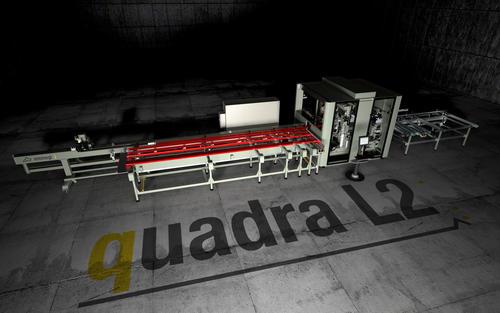 CNC machining center with 5 controlled axes, for machining bars or workpieces made of aluminum, PVC, light alloys in general or steel up to 4 m long.The 4th and 5th axis allow the electric spindle to be controlled by the N/C continuously in the range -15° to +90° on the horizontal and -360° to +360° on the vertical axis for machining the top face and all the side faces of the workpiece.It is equipped with a 12-place tool magazine on board the X-axis slide, capable of containing a side milling cutter. It also has a traversing work table which makes workpiece loading/unloading easier and increases the machinable section considerably.
The Comet R4 has independent motor-driven vices that enable the vices to be positioned in concurrent operation time.
Come visit us at booth # 1331
Image