Company Profile

Emmegi is a reference point in the sector of machining systems for aluminium profiles, light alloy, PVC and iron and is now a recognised partner in the consulting process. There are no secrets behind the company''s success. There is just work, passion, dedication, skill, professionalism, research, investments and the capability for analysis combined with an innovative spirit. Emmegi is a customer-oriented company: we all work with constant dedication to anticipate our customers'' requirements, create hi-tech, high-performance, and reliable solutions, and recommend the best manufacturing options. Moreover, our timely and skilled After-Sales Service will always guarantee the availability of products and services
Functional and stylistic uniformity of the entire range; fully interconnected production system, ease of use, reduced set-up times, high productivity, quality, precision, and reliability. Not to mention the advantages of having one reference contact every time you need assistance!

We are always there for you!
Products & Information
CNC machining center with 5 controlled axes, for machining bars or
workpieces made of aluminum, PVC, light alloys in general or steel up
to 4 meters long.
The machine has independent motor-driven vises that enable the vises
to be positioned in concurrent operation time.
The 4th and 5th axis allow the electric spindle to be controlled by the
N/C continuously in the range -15° to +90° on the horizontal and -360°
to +360° on the vertical axis for machining the top face and all the side
faces of the workpiece.
It is equipped with a 12-place tool magazine on board the X-axis slide,
capable of containing a side milling cutter.
It also has a traversing work table which makes workpiece loading/unloading easier and increases the machinable section considerably.
Image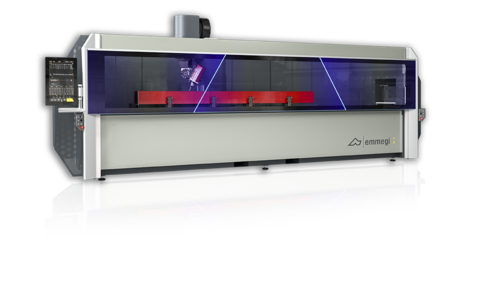 5-axis CNC mobile gantry machining center, designed to run milling, drilling, threading and cutting processes on large bars in aluminum, PVC, light alloys and steel. The mobile part of the machine mainly consists of a gantry equipped with precision motorization rack. The high-power electrospindle (15 kW in S1) with HSK-63F tool connection allows even heavy-duty machining to be run with excellent speed and accurate results.
The new local safety cab was designed to combine top functionality, accessibility, soundproofing and light with safety and ergonomic requirements.
The operator has broad glazed surfaces to check machining execution and, thanks to the total opening system of the cab in two separate parts, easy access during cleaning and maintenance. The cab interior includes the complete segregation of the work area from the remaining sections of the tool magazine and other accessories supplied on the trolley, ensuring maximum chip collection towards the conveyor belt and, as optional, dedicated extraction of machining fumes.
The 24-place tool magazine is housed in the mobile gantry; it is equipped with an exchanger arm system that considerably reduces tool change times. A 500 mm blade tool is housed separately in a dedicated magazine system.