Company Profile
Bottero is one of the most important manufacturers of machinery and production lines for the glass industry worldwide. Founded in 1957, Bottero S.p.A. develops engineered solutions for all glass requirements. Bottero operates a widespread network of sales agents, service personnel and spare parts centers around the world. 
As a global leader in flat glass and hollow glass processing technology, we have been helping to shape one of the most beautiful and useful materials in the world for over 60 years. Its unique qualities, combined with the passion for technology and innovation, guide us in seeking for newer and more effective solutions to improve and expand its use.
We • glass
Products & Information
The new challenge for the glass industry is to keep pace with increasing demands for productivity and flexibility by remaining competitive. This entails a new entrepreneurial spirit, investments and, above all, a reconsideration of the corporate organization.
For over 60 years Bottero S.p.A. has been responding to these challenges with professionalism and expertise, thanks to its proven experience in integrated glass handling and storage systems, in cutting systems for float and laminated glass, beside the technologies 4.0 combined with AI.
With over 200 plants for the float glass production, Bottero is the "unmissable" partner for all those that produce and transform the glass.
Being the global indisputable leader in the field of cutting tables, Bottero S.p.A. expresses itself at its best in the integrated systems of storing, handling, cutting and processing of glass (grinding and drilling also in shape) with a wide range of products.
Some of our proposals:
Automatic warehouse equipped with aerial overhead gantry systems;
Shuttle system for the automatic feeding of cutting lines;
Automatic stocking system of rest pieces;
High-performing cutting line 548LAM X-Y for laminated glass;
Automatic cutting lines for laminated glass and float glass (363BCS);
Automatic robotized area with automatic unloading on A-racks, L-racks and harp racks
Image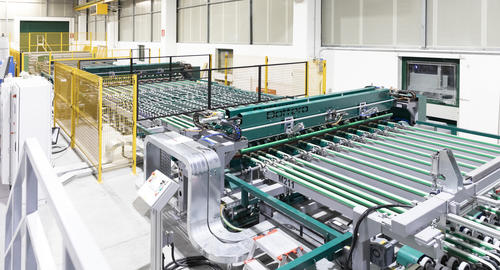 The EVO cutting platform is the top of the range Bottero cutting systems, offering exclusive performance and flexibility. Thanks to the option of equipping the machines with two additional tools besides the cutting tool, the EVO systems can be equipped, in addition to the low-e glass grinding, for example, for laser cutting or labelling of the processed piece. This option makes the EVO systems ideal for forming part of the automated and controlled production flow, which is typical in advanced glass factories and set forth in the "Industry 4.0" regulation.
The EVO range stands out due to its modularity and versatility, thanks to which the float cutting tables can be totally configured according to specific customer requirements: from stand-alone cutting tables intended for small productions, up to intensive high automation level production systems, fully integrated with Low-E grinding devices and marking, and loading and breakout modules.
Each constructive and functional feature of the EVO range is designed to ensure extreme processing precision and maximum productivity, at the service of each specific production requirement.
Image