Company Profile
A+W Software is the global market leader of software in the flat glass, window, and doors industries. A+W company develops ERP-, PPS- and optimization software in order to make glass, window, and door manufacturers even more efficient.

A+W solutions control and optimize the whole value chain from basic glass to finished windows or facade elements. A+W products are suitable for small-, medium-, and large-sized companies. A+W software optimizes its customer's yield, reduces the production costs, shortens the lead times, improves the quality and thus increases customer satisfaction.

A+W has been active for more than 40 years and sells its products worldwide.

A+W cooperates with the most experienced and competent companies in the industry. This close networking helps A+W always provide the best possible solution to meet its customer's demands.

A+W is a wholly owned company of Constellation Software Inc, which is listed on the Toronto Stock Exchange under the ticker symbol "CSU." The Corporation acquires, manages, and builds vertical market software businesses.
Product Categories
Products & Information
Barcode scanners are an indispensable tool for window and door manufacturers. Smartphones and smart devices are playing an increasingly important role, when equipped with the A+W Smart Companion App for the A+W Cantor software solution. Smartphone cameras allow barcodes to be scanned directly and to display additional information. The app supports materials management and requests, dynamic forms (the customer customizes their own scenarios in Production), and increases digitalization. The intuitive user interface requires no training, which helps save time and money.
A+W Smart Companion for A+W Cantor is currently available for Production and Stock.
In the dispatch area of production, the app can book finished elements and accessories onto racks while also assigning them to an area. This allows several elements to be scanned simultaneously in so-called continuous mode (camera mode).
As a mobile info terminal (read mode), the app provides support by displaying, for example, the production status of individual order items. This provides information at all times during production.
The stock area allows goods receipt, material transfer postings, and inventory postings to be completely processed via the app. For example, an overview of all counted items can be displayed and found directly in A+W Cantor.
Image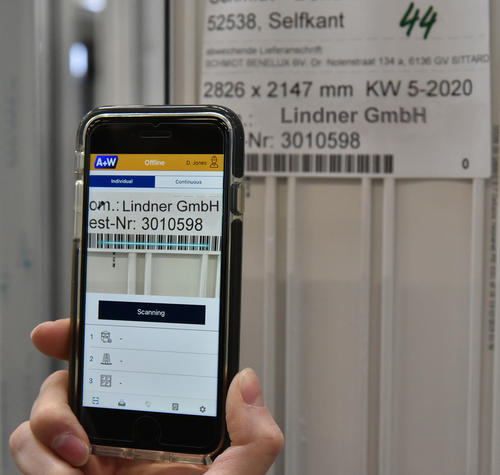 Our second-generation A+W iShape II allows for quicker fabrication, greater functionality, and increased user-friendliness. To start, place A+W's reference L-angles inside the template's perimeter. Utilizing the app's camera feature, the user photographs the template against a contrasting background. The data, including perimeter and radii, are calculated in the cloud with the special L-angles serving as the scaling tool of the template. Users then receive a 'confidence factor' regarding the template's quality and, if acceptable, the user can email the file to A+W CAD Designer, where imperfections (folds, unintended crooked cuts, etc.) can be massaged out with the line tool. Now the shaping/nesting file (dxf) is ready for cutting. If templates are a significant part of your business or even a significant spend of your time, A+W iShape is the solution for you.