Company Profile
A+W Software is the global market leader of software in the flat glass, window, and doors industries. A+W company develops ERP-, PPS- and optimization software in order to make glass, window, and door manufacturers even more efficient.

A+W solutions control and optimize the whole value chain from basic glass to finished windows or facade elements. A+W products are suitable for small-, medium-, and large-sized companies. A+W software optimizes its customer's yield, reduces the production costs, shortens the lead times, improves the quality and thus increases customer satisfaction.

A+W has been active for more than 40 years and sells its products worldwide.

A+W cooperates with the most experienced and competent companies in the industry. This close networking helps A+W always provide the best possible solution to meet its customer's demands.

A+W is a wholly owned company of Constellation Software Inc, which is listed on the Toronto Stock Exchange under the ticker symbol "CSU." The Corporation acquires, manages, and builds vertical market software businesses.
Product Categories
Products & Information
A+W iCut is the newest addition to the A+W portfolio. It is the ideal solution for smaller fabricators seeking to better automate/optimize and manage their cutting function without the higher cost of a full ERP solution.
This software solution manages your glass storage, provides multiple optimization options, efficiently and accurately steers your cutter, and synchronizes glass for downstream processes.
Additionally, A+W iCut provides a system to manage residuals. By utilizing a residual plate management system, you ensure that in addition to the stock plates, the optimization also considers your valuable residual plates in order to achieve the best yield.
So, as your business grows, due in part to efficiencies gained at your cutter, additional A+W ERP functionality and tools can be added at a later time.
Image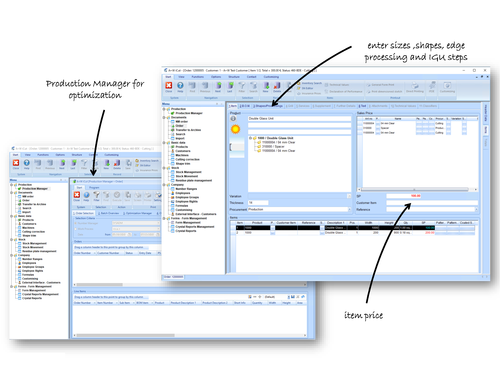 A+W SmartFactory is a high-level production system that coordinates the optimized flow of glass by controlling machines and their capacity. According to the principle of backward scheduling, the dispatch requirements, and thus ultimately customers, control the production sequence. Planning is done in real time and can be adjusted at any time to accommodate rush orders, capacity bottlenecks, machine failures, etc. Dispatch generally doesn't even notice this change, so on-time deliveries are almost a certainty.
A control center in A+W SmartFactory provides employees with a wide variety of information, and if necessary, allows them to intervene directly in production, by manually adjusting production chains, for example.
The intelligence required for this lies in the software that controls the communication between machines, and also between machines and human beings: a new industry standard on the path to Industry 4.0.
Image