Company Profile
AmesburyTruth is a North American supplier of window and door hardware components, leading the market in Casement Window Systems, Hung Window Systems, Sliding Patio Door Hardware, and Door and Window Seals.  We have set the standard for quality and durability for over a century.  Our components have been tested and specifically engineered to enhance the form and function of our customers' doors and windows.  So whether you need window components that add value to your designs or door hardware that looks and performs beautifully, you can trust AmesburyTruth to help you get the job done right.
At the core of our mission is innovation.  We strive to provide not only quality window and door components, but also custom-engineered solutions that meet our customers' specific needs.  Our skilled team of design engineers can help you create a new window or door system suited perfectly to your project.  Our technical services team can quickly guide you to the best hardware solution for your system.  With AmesburyTruth, you always have a competitive edge in our ever-changing industry. 
We want to be YOUR window and door solutions provider!
Come visit us at Booth # 8029!
Products & Information
Featuring the broadest portfolio in North America, AmesburyTruth introduces the Keystone series of sliding door products engineered to compliment the vinyl patio door segment. Featuring 6 rollers and a handle set, this series was developed to optimize entry level sliding patio door performance and price.
Innovative design modifications to roller components in our top 3 roller series led to the development of our new single wheel roller and tandem wheel rollers. And just like the rest of the rollers in our portfolio, these meet AAMA standards too. 
Our new handle set offers the strength, performance, and corrosion resistance needed for the vinyl door market at an attractive price.  
Please stop by booth #8029 to learn more about AmesburyTruth's new Keystone series! 
Image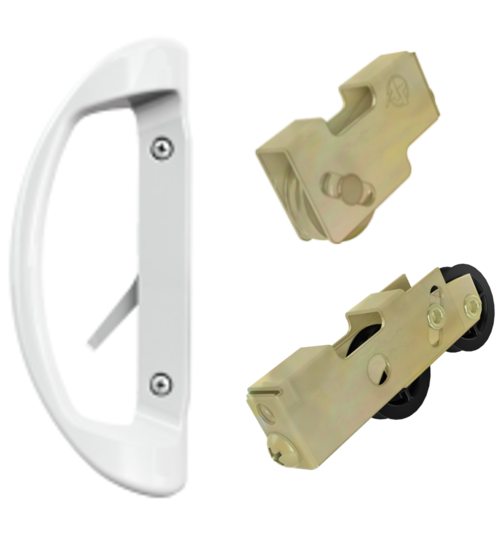 Softer weather seals with increased stability are a gap in the marketplace, as the industry evolves to meet growing demand for larger more expansive units. At AmesburyTruth, we are excited to introduce enhanced formulations within our Foam-Tite compression products that allow manufacturers to accommodate these needs. We now offer weather seals with reinforced stiffeners that can help to reduce shrinkage up to 50 percent, decreasing air and water infiltration. In addition, we offer seals with less than 5 pounds of compression force to assist manufacturers in achieving ADA compliance. As a solution provider, AmesburyTruth can collaborate with manufacturers to find innovative options that decrease labor requirements when inserting weather seals.
Please stop by booth #8029 to learn more about AmesburyTruth's off-line and in-line insertion programs! 
Image